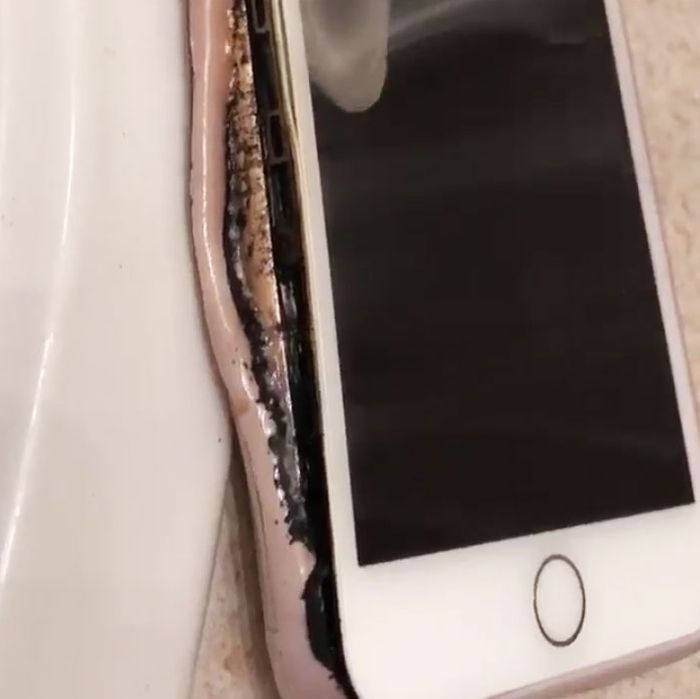 On Wednesday morning, Brianna Olivas says her rose-gold iPhone 7 Plus started smoking while the plastic case melted around the outside of the device. Her boyfriend filmed the device melting down on a bathroom counter, and the video has since been shared thousands of times on Twitter. "Dude, what the fuck," Olivas says in the background.
Olivas told Mashable she bought the phone through Sprint in January, and the day before it started smoking, she brought the phone back to the store because it wouldn't turn on. Store employees told her the phone was in proper working condition and sent her home. The next day, she says she was sleeping with the phone charging beside her in bed, when her boyfriend moved the device to a nearby dresser. She told Gizmodo she only uses the Apple-issued charger that came with the phone.
From Olivas via Mashable:
He went the the [sic] restroom … and from the corner of his eye he saw my phone steaming and [heard] a squealing noise. By the time he got over to the phone it had already caught fire, he quickly grabbed the phone and threw it in the restroom … as soon as he threw it in the restroom is [sic] blew up and more smoke started coming out of the phone.
Apple is currently investigating the video, and Olivas told The Verge the company has given her a replacement phone in the meanwhile. Here's hoping this incident is a one-off, and that Apple isn't looking at a Samsung Galaxy Note 7 situation. Also, no matter what phone you use, maybe think twice about sleeping with it plugged in six inches from your face.