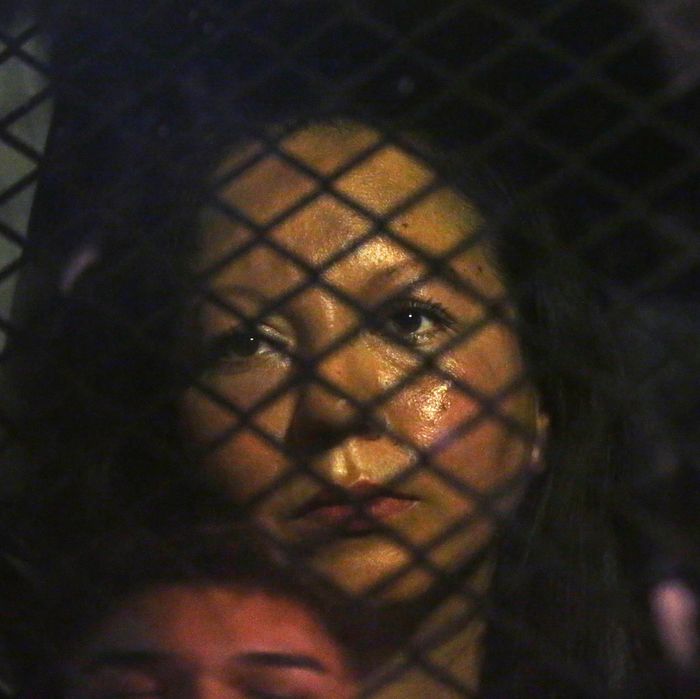 Guadalupe Garcia de Rayos inside an ICE van.
Photo: Rob Schumacher/AP
The detention of an Arizona mother who left Mexico and entered the U.S. illegally when she was 14 is drawing attention to an element of President Trump's executive order on immigration and border security that was overshadowed by discussion of the border wall.
Seven people were arrested on Wednesday night in Phoenix, Arizona, at a protest to stop the deportation of Guadalupe García de Rayos. The 36-year-old mother of two American teenagers was taken into custody during one of her regular check-ins with Immigration and Customs Enforcement.
In 2008, García de Rayos was working at Golfland Sunsplash amusement park in Mesa, Arizona, when it was raided by then Maricopa County Sheriff Joe Arpaio. She was convicted of a felony for using a fake social security number at work. For years, she's been checking in with ICE every six months, and she was able to stay in the U.S. because the Obama administration prioritized the deportation of people who had committed serious crimes or had gang affiliations.
As the New York Times reports, García de Rayos knew the situation might have changed due to President Trump's executive order, which said undocumented immigrants convicted of any criminal offense — or even those who may have committed "acts that constitute a chargeable criminal offense" — are a priority for deportation. She showed up for her scheduled appointment anyway, and this time she was arrested.
"We all knew something could be different this time with the new administration," Carlos Garcia, director of the immigrant advocacy group Puente Arizona, told the Los Angeles Times. "She went in with the lawyer and didn't come out. That was pretty much all there was."
Puente volunteers accompanied García de Rayos to the ICE office, and dozens of activists held a prayer vigil for her on Wednesday evening. Later, protesters blocked the gates around the building in an effort to prevent several vans and a bus from leaving. They held up a van holding García de Rayos for about an hour, but later ICE vehicles were able to leave from a different exit.
Phoenix police arrived on the scene around 9 p.m. and arrested seven demonstrators. The department wrote in a series of tweets: "Some protesters at the ICE building have chosen criminal conduct instead of free speech … Officers are working to keep EVERONE [sic] safe including a scared group of people inside an ICE van being illegally blocked by some people … Despite repeated warnings, some engaging in criminal acts are refusing to stop. Additional arrests for the criminal acts are imminent … Besides the few people engaged in criminal acts, most people out here are peaceful and exercising their rights properly."
By 1 a.m. on Thursday, fewer than two dozen protesters were still on the scene.
A statement from ICE did not comment on why García de Rayos was detained after this check-in, though she'd been allowed to leave in the past:
Ms. Garcia De Rayos is currently being detained by U.S. Immigration and Customs Enforcement (ICE) based on a removal order issued by the Department of Justice's Executive Office for Immigration Review which became final in May 2013. Relevant databases indicate Ms. Garcia De Rayos has a prior felony conviction dating from March 2009 for criminal impersonation.
"It has 100 percent to do with the executive order," Ray Ybarra-Maldonado, a Phoenix immigration lawyer representing García de Rayos, told USA Today. "Her case is no different than the last time she checked in. The facts are 100 percent the same. The only difference is the priorities for removal have now changed."
Jessica Vaughan, policy studies director at the Center for Immigration studies, which supports Trump's immigration policies, agreed that ICE may have been responding to the executive order, "which returns a great deal of discretion to ICE officers in the field to enforce immigration laws as they were written."
It's unclear if García de Rayos will be deported immediately, or have the opportunity to fight her deportation from a detention center. She has been trying to have her felony conviction overturned, arguing that Arpaio's raids were unconstitutional. She was a few months too old to apply to stay in the country under President Obama's Deferred Action for Childhood Arrivals.
The protest was attended by García de Rayos's husband, who is also undocumented, and their two children. "She's always there for me. No one should ever have to go through this," said her 16-year-old son, Angel.