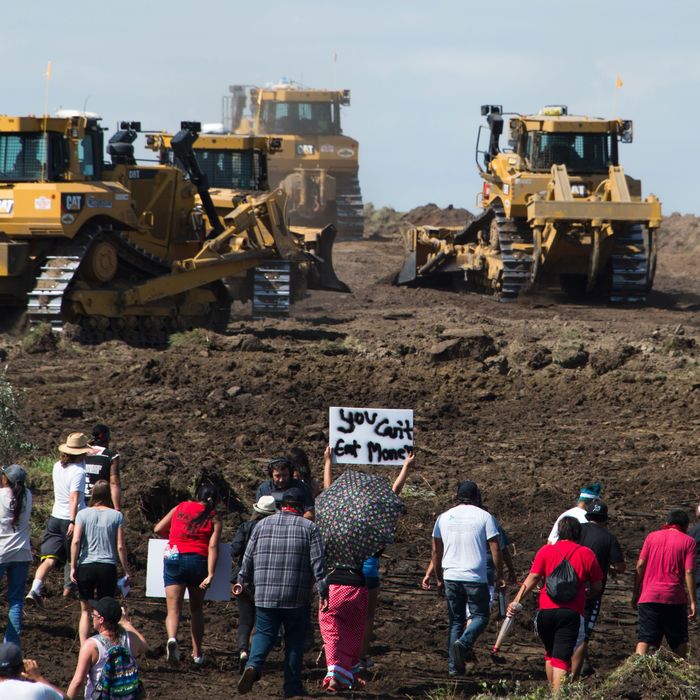 Yes, DAPL.
Photo: Robyn Beck/AFP/Getty Images
The Trump administration gave Energy Transfer Partners the green light to complete construction of the Dakota Access Pipeline Tuesday.
The pipeline is 85 percent built, but its final leg cuts across land owned by the U.S. Army Corps of Engineers — and under the Missouri River, just north of the Standing Rock Sioux Reservation.
The Sioux see the pipeline as a threat to its sacred land and water supply, and mobilized a coalition of environmentalists and Native American rights activists to protest its construction last year. That activism persuaded the Obama administration to conduct an environmental-impact assessment and consider alternative routes for the pipeline.
But then Donald Trump became president, and within his first week, signed an executive order encouraging the Army Corps to expedite its review and approval process.
Army Corps officials told Congress Tuesday that it would be approving the final permit necessary for the pipeline's completion, without a full environmental review — and that Energy Transfer Partners would be free to begin construction as soon as Wednesday.
The Standing Rock Sioux plan to challenge the Army's decision in court. But as Vox's Brad Plumer notes, their prospects don't look good:
Back on September 9, a federal judge rejected the tribe's request for an injunction to halt the pipeline while the DC Circuit Court heard a broader case over whether the Army Corps properly consulted the Standing Rock Sioux. (That case is still ongoing.) So the tribe would have to come back and ask yet again for an injunction — this time over the fact that the Army Corps decided to ignore an ongoing environmental review. It's unclear if the judge would be any more sympathetic this time around.
Several hundred protesters remain camped out around the Standing Rock Reservation, and they plan to wage "mass resistance far beyond what Trump has seen so far."
Authorities arrested 74 protesters near the pipeline's route last week. The activists refused to vacate land that the government says is privately owned, but which they believe rightfully belongs to Native Americans.