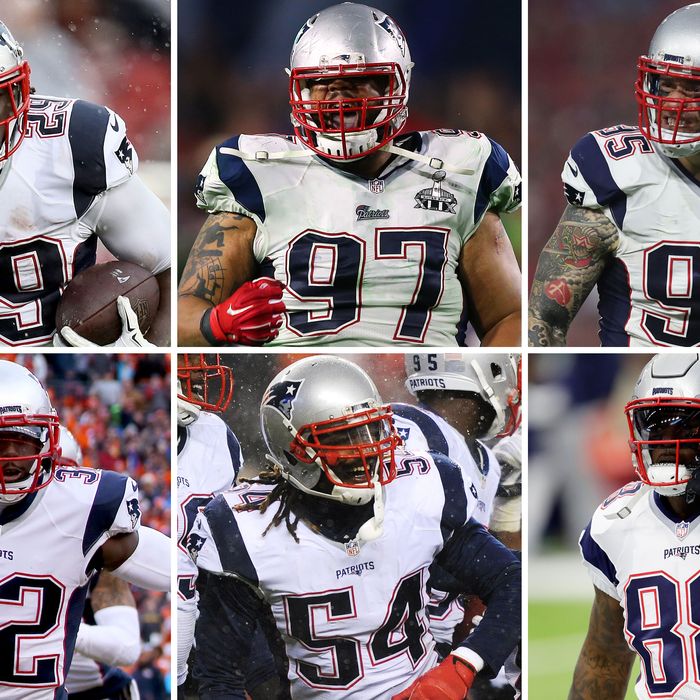 Patriots.
Photo: Getty Images
Just five days out from the Super Bowl, the number of New England Patriots who have declared their intention to skip the team's celebratory visit to the White House has jumped to six. So much for the Patriots being Trump's team.
The first two players to say they'd sit out the White House reception did so shortly after the win. And both tight end Martellus Bennett and safety Devin McCourty made it clear that Trump was the reason why. Asked if he was concerned about the response from Trump-supporting Patriots owner Robert Kraft, Bennett said he wasn't "worried at all."
The four players who have since joined Bennett and McCourty have given a range of reasons. Defensive end Alan Branch, who has four kids at home, told SiriusXM NFL Radio he prefers to "hang out with the family and continue celebrating until the next season starts." Linebacker Dont'a Hightower, who also skipped the team's 2014 visit to the White House but did attend while at Alabama, justified his decision by saying, "Been there, done that."
Running back LeGarrette Blount pointed toward the president when he was asked about the trip though. "I will not be going to the White House," he told the NFL Network's Rich Eisen. "I don't feel welcome in that house. I'll leave it at that."
Then there's Chris Long, the only white Patriots player to publicly announce his plans to skip the White House. The defensive end, who publicly spoke out in favor of 49ers quarterback Colin Kaepernick and his national-anthem protest earlier this year, wrote on Twitter that he's "skipping" the visit. His tweet came in response to a Daily News column calling on him to join his teammates after his Kaepernick comments made him stand out in a "pathetic sea of NFL white silence."
At least one other player has suggested he may join the six above. Running back James White said Tuesday that he's still making up his mind. "I'll wait till the time comes and decide then," he said on NFL radio.
At this rate, Tom Brady might have to go see his pal all alone.