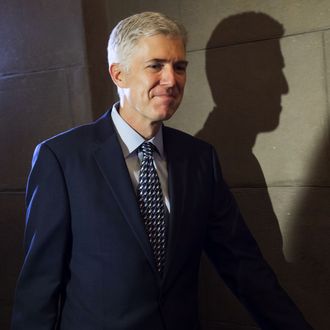 Gorsuch.
Photo: Saul Loeb/AFP/Getty Images
Save the date: Senate Judiciary Committee hearings for President Donald Trump's Supreme Court nominee, Neil Gorsuch, are set to start March 20. Gorsuch, a judge on the Tenth Circuit Court of Appeals, will likely face questioning for the first time the day after that, reports the Hill.
Republican senator Chuck Grassley, chairman of the Senate Judiciary Committee, announced the schedule, and said he expects the hearings to last three or four days. Gorsuch has spent the downtime between his nomination and the start of the confirmation hearings by paying courtesy calls to about 50 senators, with more to come, reports Politico. Some Democrats have said they will oppose Gorsuch outright, but unlike Republicans — who refused to even have meetings with Obama's choice for Antonin Scalia's seat, Judge Merrick Garland — Democrats have at least hosted Gorsuch for sit-downs. In the meantime, Scalia's Supreme Court seat has now officially gone unfilled for more than a year, a streak that's approaching the record for longest Supreme Court vacancy since the nine-bench panel became law, in the 1860s.