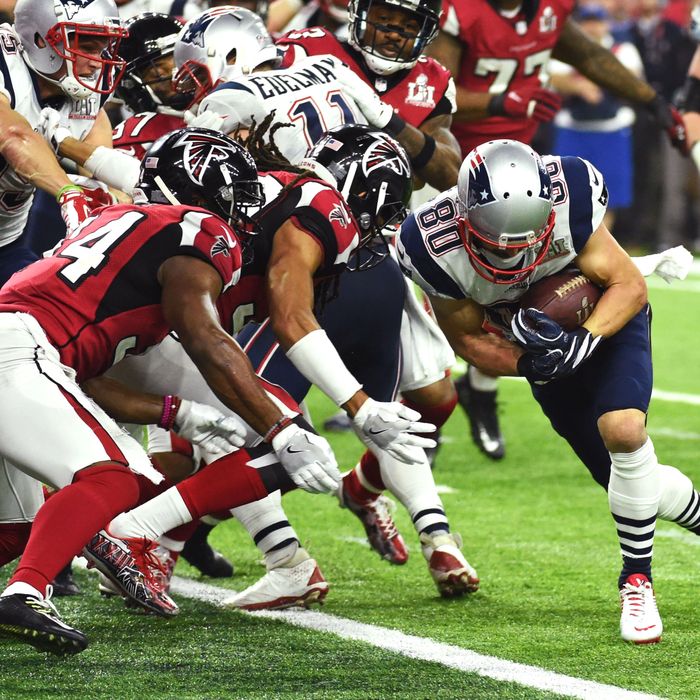 Super Bowl LI.
Photo: TIMOTHY A. CLARY/AFP/Getty Images
Last night, the Atlanta Falcons faced off against the New England Patriots in the 51st Super Bowl. There was singing. There was athleticism. There were drones. In case you missed the game — and the subsequent overtime — here's everything that happened summed up neatly in some fun-to-read tweets.
First up, the original Schuyler Sisters from Hamilton took the field to perform a rendition of "America the Beautiful." They managed to fit in both the words "brotherhood" and "sisterhood" in the final lyric which traditionally only contains "brotherhood." Which was cute, but — spoiler alert — didn't thrill some folks. (Namely the kind who like to rail against nonissues on the internet.)
Luke Bryan sang the world's slowest rendition of "The Star-Spangled Banner." Though still not slow enough to run over the Vegas prop bet time of 127.5 seconds, so bad news if you bet the country singer would run over.
And then the game began.
As usual, commercial breaks were often more important than the game itself. There was a BSDM/Fifty Shades of Grey–inspired ad from Verizon.
And … something about oil.
At the half, the Falcons were ahead and a camera caught a glimpse of Tom Brady looking particularly dejected sitting on a bench. And thus, for a brief moment, a new meme was born: Sad Tom Brady. (He wouldn't be sad by the evening's end, so this meme is already dead.)
Lady Gaga performed the halftime show, leaping into the arena suspended by cables and possibly some magic. While there was no Left Shark moment, her performance was solid, highly GIF-able, and prominently featured several drones.
Then the game started up again, the Patriots managed a heck of a second-half comeback, and the world was introduced to sexy Mr. Clean, to mixed results.
Justin Bieber donned a suit and glasses for a T-Mobile ad and wound up looking like that creepy old dude from Six Flags ads of yore.

The game went into overtime — a first in Super Bowl history — and culminated in a Patriots win. Congrats to the Patriots, Tom Brady, and Gisele Bündchen's iPhone which she managed not to shatter despite dropping it while Snapchatting like an excited teen after the Pats won.
And now, back to the real world.