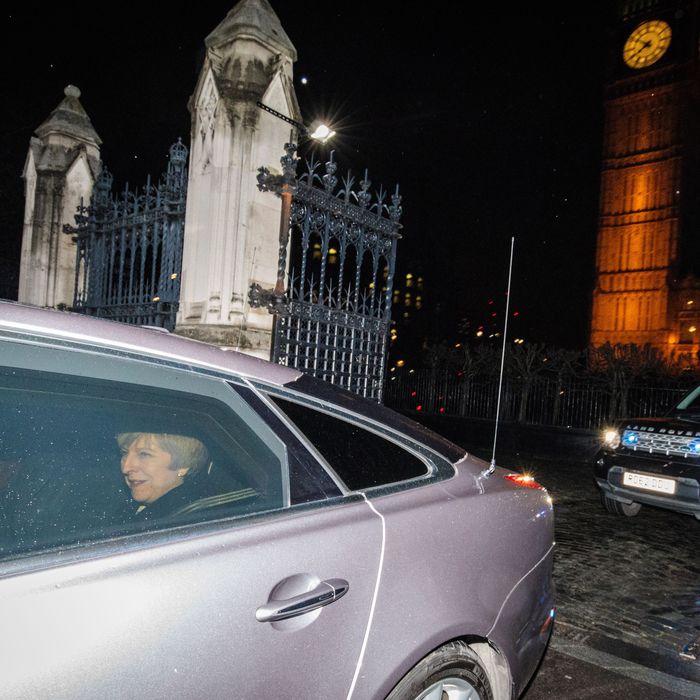 Nailed it.
Photo: Jack Taylor/Getty Images,
The United Kingdom's highest court ruled last week that the British government had to get approval from Parliament before it could officially begin its "Brexit."
Well, it did not take long. By a strong majority, members of Parliament voted Wednesday in favor of a bill that would allow Prime Minister Theresa May's government the power to trigger Article 50, the clause in the Lisbon Treaty that dictates the process for countries to formally withdraw from the European Union. May had picked a March 2017 deadline to activate Article 50, which will set off two years of negotiations — meaning the U.K.-E.U. divorce shouldn't officially be finalized until 2019.
The bill still needs to get the okay from the House of Lords, but it was Wednesday's 498 to 114 vote in the lower chamber that really mattered. The results aren't a tremendous shock, either. Members of Parliament contentiously debated the bill, but even those squarely in the "Stay" camp during the referendum debate last June said they would respect the results of the vote. Labour leader Jeremy Corbyn supported the bill, though a fair chunk of party members rebelled. After the vote, Corbyn said in a statement, "Now the battle of the week ahead is to shape Brexit negotiations to put jobs, living standards, and accountability centre stage. Labour's amendments are the real agenda."