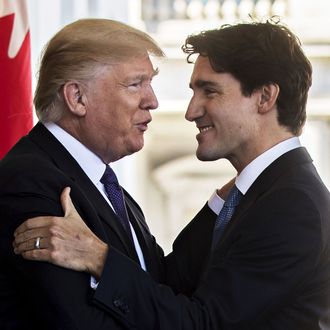 Nice try, Don.
Photo: Andrew Harrer/Bloomberg via Getty Images
Canadian prime minister Justin Trudeau met with President Donald Trump in the White House Monday. Trudeau, who had a strong relationship with Barack Obama, has had some public differences with Trump, most notably on refugee policy. The two discussed trade and national security, and released a joint statement that touched on economic security and growing the middle class; border security; and military cooperation. The two also recommitted to empowering women in the workplace, after hosting an earlier roundtable that featured the president's daughter Ivanka.
At their joint press conference, Trudeau and Trump reaffirmed the "special relationship" between the United States and Canada, which, according to Trump, will become "as good or better than ever before."
Trudeau, who spoke in both English and French — which forced Trump to fumble with his earpiece — underscored those ties. "No other neighbors in the entire world are as fundamentally linked as we are," Trudeau said.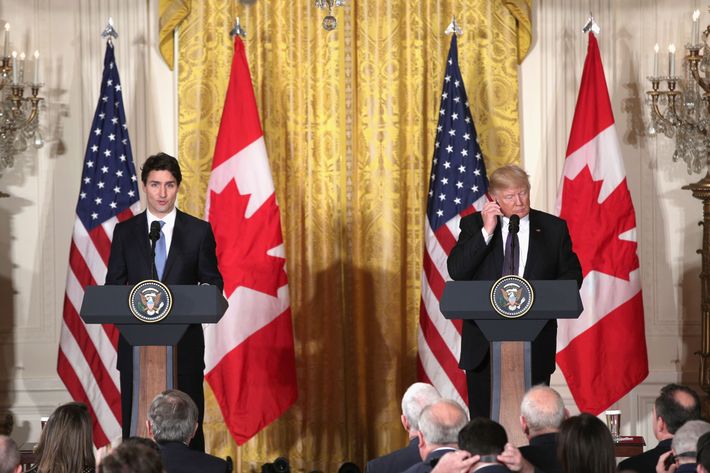 But the press conferences spotlighted some of the differences between the two leaders, in both tone and substance. None of the reporters brought up the rumors swirling around the fate of National Security Adviser Michael Flynn, but the journalists asked pointed questions about immigration, trade, and Trump's travel ban. One Canadian journalist said to Trump, "You seem to suggest that Syrian refugees are a Trojan horse for potential terrorism, while the prime minister hugs refugees."
Trump responded by talking about the great job his team had done to get the "very, very hardened criminals in some cases, with a tremendous track record of abuse and problems" out of the country. Since Trudeau hadn't brought it up, and in case Canada hadn't heard, Trump reminded them: "I'm just doing what I said I would do when we won by a very, very large Electoral College vote."
Another reporter directly asked about Trump's travel ban. "We cannot let the wrong people come in, and I will not allow that to happen during this administration," Trump said, adding: "We're getting such praise for our stance."
Trudeau, who didn't quite go all Love Actually on Trump as the internet had hoped, managed a quiet rebuke of Trump's executive order on refugees. "There have been times where we have differed in our approaches, and that's always been done firmly and respectfully," Trudeau said. "The last thing Canadians expect is for me to come down and lecture another country on how they choose to govern themselves. My role, our responsibility is to continue to govern in such a way that reflects Canadians' approach and be a positive example in the world."
If Trump got the subtle burn, he tried to make up for it by responding to a question about Nafta and potential changes to trade with Canada by talking about Mexico, and how companies are coming in with "billions and billions of dollars" and creating "thousands of thousands of jobs" in the United States. "We're going to make it so that everybody is happy," Trump said.
The press conference followed a long day, including that roundtable to kick off a new task force called the United States Canada Council for the Advancement of Women Business Leaders-Female Entrepreneurs. The participants ended the discussion by gathering around a man at a desk:
But even before there were introductions, a point goes to Trudeau for skillfully deflecting Trump's bizarre hand-yank move.
In the Oval Office, the two posed for pictures, and Trump tried for a do-over. "I think they might want a handshake," he said to Trudeau.
"They"?