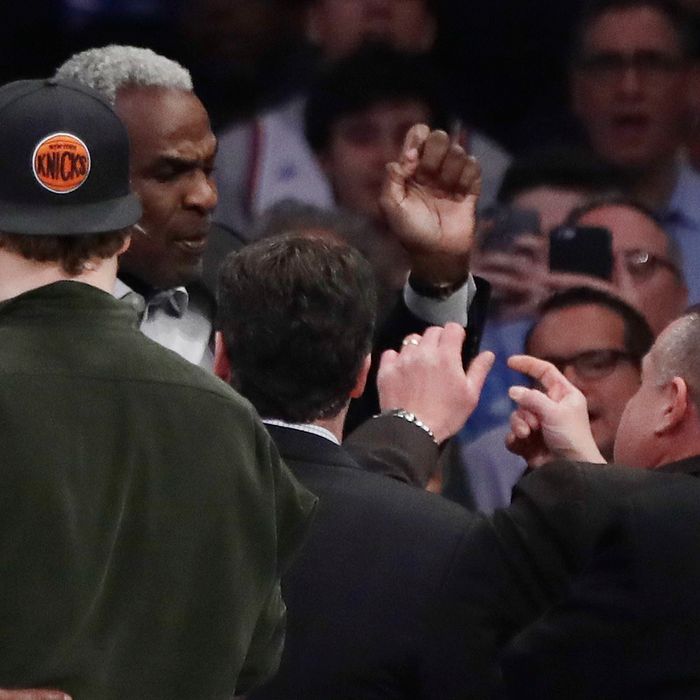 Charles Oakley scuffles with security guards.
Photo: Frank Franklin II/AP
There was more trouble for the New York Knicks on Wednesday night when Charles Oakley, one of the team's legends, was ejected from Madison Square Garden by five security guards and charged with assault.
The incident occurred halfway through the first quarter of the Knicks game against the Los Angeles Clippers, which New York lost 119-115. Oakley was sitting courtside, several rows behind Knicks owner James Dolan, with whom he's had a contentious relationship for years.
Several spectators told the New York Times that Oakley seemed calm at the start of the game, and they didn't see him interact with Dolan. However, the New York Daily News reports that Oakley was yelling at Dolan.
T.J. Veenstra, who was sitting behind Oakley, told the Times that he saw Oakley say something to a security guard when he walked by. The guard then asked him to leave, and Oakley protested. "He just couldn't understand why," said Matthew Barbara, who was sitting a few rows ahead of Oakley. "We didn't see him throw a punch or do anything. He wasn't nasty to any of the people behind him. We're trying to figure out what happened."
Soon security guards swarmed around Oakley. Video shows Oakley shoving one of the guards as they try to remove him. Players stopped to watch the altercation, and the crowd chanted Oakley's name as he was escorted out through a tunnel. Outside the court, Oakley shouted, "I didn't do nothing," as he was handcuffed and surrounded by guards. Knicks president Phil Jackson tried to calm him, to no avail.
The team released this statement:
Charles Oakley came to the game tonight and behaved in a highly inappropriate and completely abusive manner. He has been ejected and is currently being arrested by the New York City Police Department. He was a great Knick and we hope he gets some help soon.
Oakley was charged with three counts of misdemeanor assault, and one of criminal trespass. He received a desk appearance ticket and was released from the Midtown South precinct around midnight.
Oakley told the Daily News that he was asked to leave the game because Dolan didn't want him there.
"I was there for four minutes," Oakley said. "I didn't say anything to him. I swear on my mother. They came over and wanted to know why I was sitting there. I bought the ticket. I said why do you guys keep staring at me. Then they asked me to leave. And I said I'm not leaving."
LeBron James expressed support for Oakley in an Instagram post:
While it's still unclear what started the incident, fans said it was sad to see. "I don't think there's necessarily good blood between him and the organization, from what I understand. But it's unfortunate. Put it that way," said Ian Schafer, whose video of the altercation went viral. "Especially during this season. There are too many distractions."