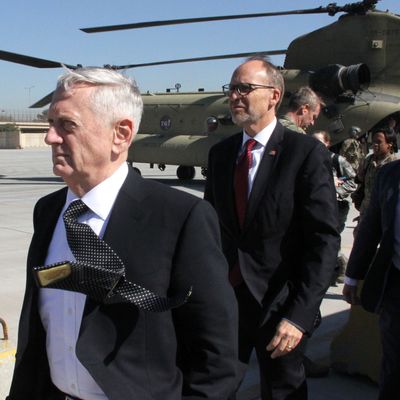 Mattis arrives in Baghdad.
Photo: THOMAS WATKINS/AFP/Getty Images
As a part of his global tour to clean up after President Trump, Defense Secretary James Mattis stopped in Baghdad Monday where he sought to reassure Iraqi's feeling skittish about Trump's continued insistence that the U.S. should have already taken Iraq's oil and his suggestion that "we'll have another chance."
"We're not in Iraq to seize anybody's oil," Mattis flatly told reporters. The secretary said his visit to Baghdad was to "get current on the situation there, the political situation, the enemy situation and the friendly situation." But as with several of his recent stops in Europe, Mattis had to spend some of his time in the country smoothing over some of Trump's more controversial remarks.
In addition to the denial of oil snatching, Mattis said Trump's revised executive order on immigration, expected to be issued this week, will no longer exclude Iraqis who partnered with U.S. troops from entering the U.S. "I have not seen the new executive order," he said. "But right now, I'm assured that we will take steps to allow those who have fought alongside us to be allowed into the United States." The revised travel ban is still expected to place travel restrictions on other Iraqi citizens, though.
Before trying to persuade Iraqis that Trump's statements should not always be taken seriously, Mattis did the same at a NATO meeting in Brussels, where he criticized Russia more than Trump ever has. "The point about Russia is they have to live by international law just like we expect all mature nations on this planet to do," he said. He added that Russia must "prove itself" before its military can work alongside the U.S.
Then in Munich, at a security conference, Mattis calmed the nerves of any NATO nations worried about Trump's warning last July that America would not defend its allies if they didn't "fulfill their obligations to us."
"The reality is that American security is permanently tied to the security of Europe," Mattis said. "When it comes to security no one goes their own way in this world."