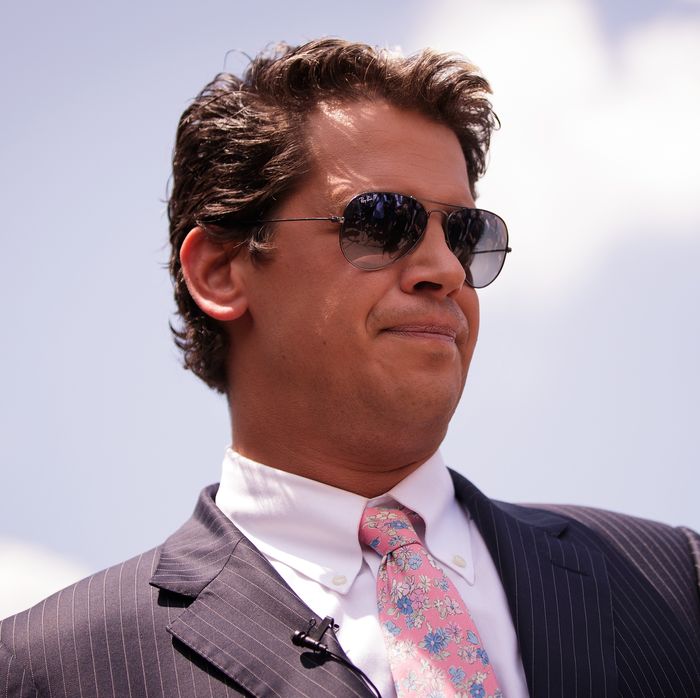 Milo Yiannopoulos.
Photo: Drew Angerer/Getty Images
UPDATE: On Monday, CPAC rescinded Yiannopoulos's invitation, citing his comments "condoning pedophilia."
Milo Yiannopoulos, the Breitbart senior editor and right-wing provocateur, has been profiting from a feedback loop of predictable outrage for some time now, and the alt-right's takeover of the Republican Party has helped him take his trolling to an even bigger audience. The recent protests against Yiannopoulos's Simon & Schuster book deal, the violent demonstration over his planned University of California, Berkeley, speech, and the controversy surrounding his appearance on Real Time With Bill Maher have reinforced Yiannopoulos's dubious claims that he's "dangerous" and a martyr for free-speech.
On Saturday, Yiannopoulos scored his biggest prize yet (aside from, perhaps, this Trump tweet): an invitation to speak at this year's Conservative Political Action Conference. "An epidemic of speech suppression has taken over college campuses," said CPAC chairman Matt Schlapp. "Milo has exposed their liberal thuggery and we think free speech includes hearing Milo's important perspective."

Initial reports said Yiannopoulos would be the keynote speaker at the event, which will be held in Maryland later this week, but he's actually just one of more than 75 speakers, including Vice-President Mike Pence. Still, as Breitbart gleefully noted following the announcement, "Both leftists and establishment conservatives have taken to Twitter to express their outrage."
Washingtonian reported that even some board members of the American Conservative Union, which hosts CPAC, felt "blindsided" by the announcement. "The ACU board was not consulted on this, nor was there a board vote," tweeted ACU board member Ned Ryun. Others pointed out that last week Yiannopoulos told Bill Maher, "I don't know if I'm conservative."
By Sunday, that was the least of CPAC's concerns. The Reagan Battalion, a conservative blog, tweeted out a video of Yiannopoulos making anti-Semitic remarks and railing against the "arbitrary and oppressive idea of consent." First, he claims that when female teachers have sex with their male students, "The boy is the predator in that situation." He continues:
In the homosexual world particularly, some of those relationships between younger boys and older men the sort of coming of age relationships relationships in which those older men have helped those young boys to discover who they are and give them security and safety and provide them with love and a reliable — and sort of a rock where they can't speak to their parents.
When a voice off-camera says that sounds like "priest molestation," Yiannopoulos shoots back: "And do you know what? I'm grateful for Father Michael. I wouldn't give nearly such good head if it wasn't for him."
Later, the Reagan Battalion posted a longer, unedited clip, and linked to the source: an episode of the Drunken Peasants podcast uploaded to YouTube on January 4, 2016. After one of the co-hosts defends age-of-consent laws, using 13-year-old boys as an example, Yiannopoulos responds:
The law is probably about right, that's probably roughly the right age, I think it's probably about okay, but there are certainly people who are capable of giving consent at a younger age. I certainly consider myself to be one of them.
When he's accused of defending pedophilia, Yiannopoulos says the co-host doesn't understand what the term means:
You're misunderstanding what pedophilia means. Pedophilia is not a sexual attraction to somebody 13 years old, who is sexually mature. Pedophilia is attraction to children who have not reached puberty. Pedophilia is attraction to people who don't have functioning sex organs yet who have not gone through puberty.
Hebephilia is the term for a sexual interest in pubescent children, roughly ages 11 to 14, and ephebophilia refers to an interest in older adolescents. The lowest and most common age of consent across the U.S. is 16.
Yiannopoulos's opinions on adults having sex with minors were no secret. He also discussed the topic on Joe Rogan's podcast on September 30, 2015. In the clip below, which began circulating again on Sunday, Yiannopoulos makes the same quip about Father Michael and insists he did not molest him, saying, "When I was 14, trust me, I was the predator."
When Rogan references the sexual-abuse allegations against director Bryan Singer, Yiannopoulos describes going to Hollywood parties thrown by "other people who I won't name of a similar stature in Hollywood," and seeing very young boys being abused by older men. He does not say anything about reporting this to the police.
I don't want to be indiscreet about specific people because I think it's going to be dangerous. But I can tell you the truth without dropping anyone in it. I mean, some of the boys there were very young. Very young.

… There were some very young boys around at that time. There was a lot of drugs, and a lot of twinks taking drugs, and having unsafe sex with younger men, and some of these boys were very young.
Yiannopoulos defended himself in a lengthy Facebook post, declaring, "I do not support pedophilia. Period. It is a vile and disgusting crime, perhaps the very worst." He claims the entire controversy stems from Establishment Republicans using "selectively edited videos" to discredit him, though what appear to be the original recordings have been online for months. He describes the quip about Father Michael as an "edgy way" to deal with "clerical sexual abuse committed against me when I was a teen."
Yiannopoulos says he does regret his sloppy use of the word "boys," which he says gay men often use "when they refer to consenting adults." It's unclear which remarks he's referring to, but at times in the video he seems to be discussing children under the age of consent. He also said he "was not talking about anything illegal and I was not referring to pre-pubescent boys," though it's illegal for adults to have sex with minors regardless of whether they've gone through puberty.
Many said they were still disturbed by the video, including CNN's Jake Tapper, who wondered how CPAC could defend inviting Yiannopoulos:
CPAC chairman Matt Schlapp was still standing by Yiannopoulos on Sunday night, though he did not address the videos directly. He said in an exchange with National Review's Jonah Goldberg: