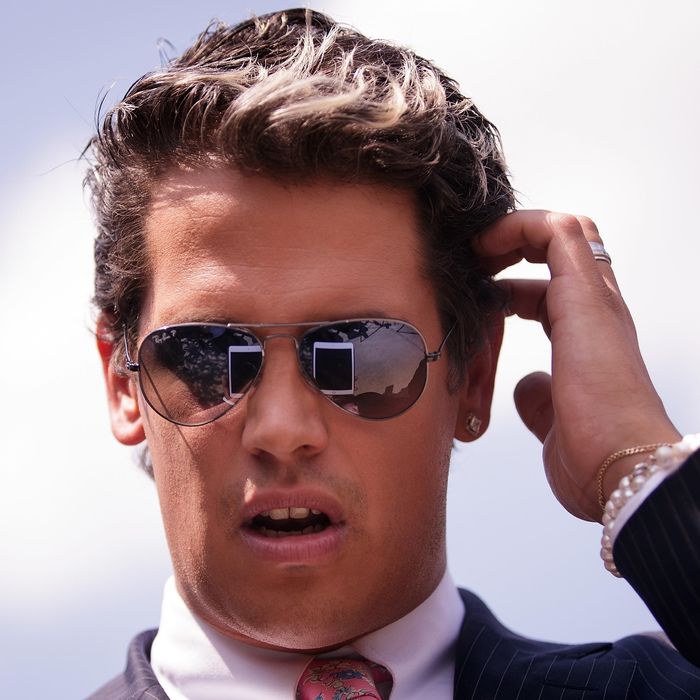 Disinvited.
Photo: Drew Angerer/Getty Images
Milo Yiannopoulos, the internet's favorite right-wing troll, is no longer welcome to speak at this week's Conservative Political Action Conference "due to the revelation of an offensive video in the past 24 hours condoning pedophilia," the American Conservative Union said in a statement Wednesday.
The statement, tweeted by ACU chairman Matt Schlapp, called on Yiannopoulos "to immediately further address these disturbing comments" while acknowledging that "the CPAC platform is not an endorsement of everything a speaker says or does." Still, the statement says, "there is no disagreement among our attendees on the evils of sexual abuse of children."
The cancellation of Yiannopoulos's speech comes hours after the announcement that President Trump would appear onstage to address the CPAC crowd, which will also hear from Vice-President Mike Pence and White House power players Steve Bannon and Reince Priebus.
Even with Trump's invitation, though, Yiannopoulos has gotten the most attention, thanks to a viral video of him criticizing the "arbitrary and oppressive idea of consent." In the 2016 video, which comes from an episode of The Drunken Peasants podcast and was tweeted by the Reagan Battalion, Yiannopoulos also says "relationships between younger boys and older men" can give the boys "security and safety and provide them with love."
Yiannopoulos responded on Facebook to the cancellation of his CPAC appearance, blaming the controversy around his comments on "imprecise language" and "British sarcasm." He added:
Anyone who suggests I turn a blind eye to illegal activity or to the abuse of minors is unequivocally wrong. I am implacably opposed to the normalization of pedophilia and I will continue to report and speak accordingly.
The full statement can be read here.