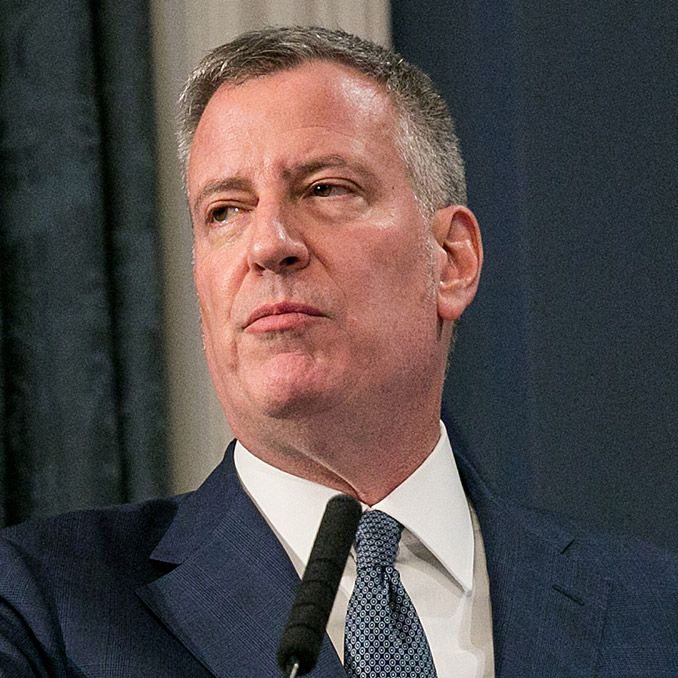 New York City Mayor Bill de Blasio presents the Fiscal Year 2018 Preliminary Budget at New York City Hall in New York City.
Photo: Sam Hodgson - Pool/Getty Images
Federal prosecutors and investigators grilled Mayor Bill de Blasio for about four hours Friday. The interview, which took place in the law offices of the mayor's attorney, came after a nearly yearlong probe into the mayor's campaign activities.
Assistant U.S. Attorneys, including the chief and deputy chief of the Public Corruption Unit, and FBI agents, reportedly questioned de Blasio on a bunch of issues related to his 2013 campaign and his now-defunct nonprofit Campaign for One New York. Feds are exploring if the mayor or any members of his team traded political favors for those donations. De Blasio, who participated in the interview "voluntarily," has denied wrongdoing from the outset. "We remain confident that at all times the mayor and his staff acted appropriately and well within the law," the mayor's press secretary, Eric Phillips, said in a statement. "We hope our continued cooperation will help bring a swift conclusion to the U.S. attorney's review."
According to the New York Daily News, federal investigators are honing in the mayor's relationship to Moishe Indig, a rabbi and landlord, who co-hosted a fundraiser for candidate de Blasio in 2013. Feds are trying to find out if Indig lobbied de Blasio or his aides to reopen a Hasidic school that the city ordered shut because of building-code violations. The mayor's press secretary has called these allegations a "fabrication," adding, "The mayor never intervened in this issue. Period."
De Blasio's big interview also coincided with the termination of an city official who okayed the lifting of deed restrictions on Rivington House, a Lower East Side nursing home and AIDS-treatment facility, which allowed it to be sold to luxury-condo developers for a $72 million profit. The Rivington deal is allegedly also under investigation by federal authorities. (Previous investigations, including an August audit report on the sale by the NYC Comptroller Scott Stringer's office found mismanagement and errors, but nothing illegal in City Hall's conduct.) But attorneys for Ricardo Morales, the former deputy commissioner at the Department of Citywide Administrative Services, insinuated that the timing wasn't an accident, calling it "suspicious" to the Daily News. A spokeswoman for the Department of Administrative Services responded that the personnel changes "have been in the works for some time and have nothing to do with the mayor's or City Hall's cooperation with the U.S. Attorney."
These investigations swirling around de Blasio — he's also been interviewed by the Manhattan D.A. on a state-related inquiry — might make him seem vulnerable in 2017 mayoral race. But as the New York Times points out, no credible Democratic candidate has stepped up to challenge him. Names that have been floated, including, at the top of the list, Comptroller Scott Stringer, appear to be in wait-and-see mode on these federal investigations. The Republican mayoral candidate, Paul Massey, a real-estate executive, has gone after de Blasio publicly in recent days, but likely still faces long odds at City Hall.