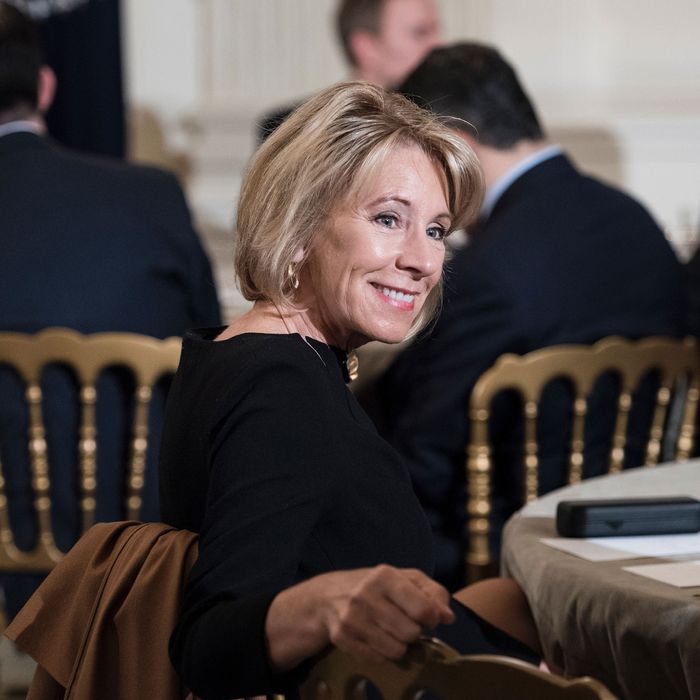 A person who hasn't done her homework.
Photo: Brendan Smialowski/AFP/Getty Images
American public schools remain separate and unequal: Nonwhite students in diverse areas tend to be concentrated into majority-minority schools that enjoy less funding than majority-white ones. Across the United States, schools with 90 percent white pupils spend $733 more per student than those with 90 percent nonwhite students, according to a 2012 report from the Center for American Progress.
Betsy DeVos believes that the solution for such inequities isn't to increase federal funding to impoverished school districts — or to take aggressive action against residential segregation — but rather, to divert federal funds away from public schools and toward (largely unregulated) private ones.
The Education secretary's critics argue that this is a recipe for accelerating the resegregation of the American school system. After all, demand for private schools has historically been driven, in no small part, by white parents' fears of integration: In the 11 years after the signing of the Civil Rights Act, an estimated half-million white students exited public schools for private ones.
But even if one concedes that some black students may benefit from access to better-funded private schools, DeVos's vision remains unsatisfying. To believe that the de facto segregation of modern American schools can be solved by providing a small minority of black children with access to private education is akin to thinking that historically black colleges and universities, or HBCU, were a sufficient response to the de jure segregation of past centuries.
But don't take my word for it, take Betsy DeVos's:
This is the statement America's Education secretary released after a meeting with the leaders of historically black colleges and universities.

Of course, HBCUs did not reflect a triumph of "school choice" — the vast majority of their initial students had no choice but to attend a segregated college. And they didn't show that "more options help students flourish," so much as they established that "black people benefit from not being completely excluded from all forms of higher education."
In the Jim Crow era, HBCUs provided a minority of black students a chance to attain higher learning and social mobility — even as the broader inequities of the public-education system kept most black children locked out of educational opportunity.
Betsy DeVos sees this as a model for modern-day education reform.