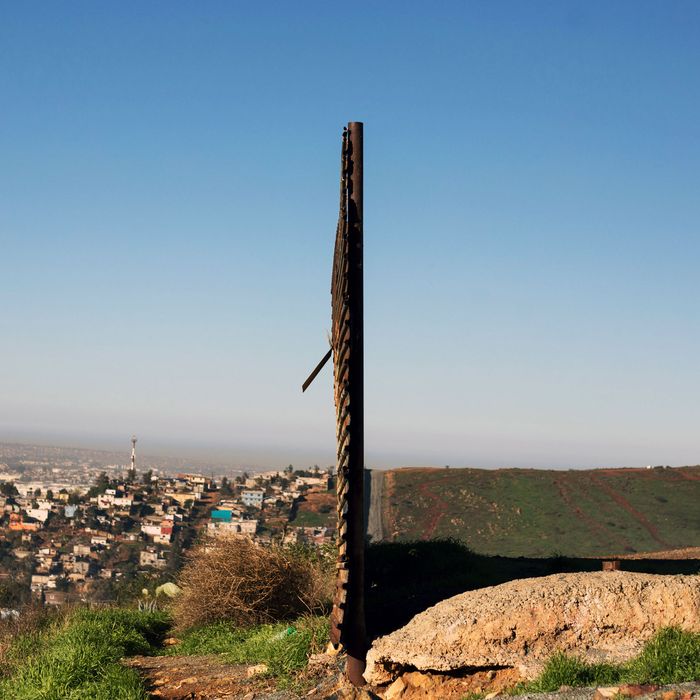 Build that wall?
Photo: Guillermo Arias/AFP/Getty Images
In the past 12 months, Donald Trump has put the estimated cost of his prized border wall at $8 billion, $10 billion, and $12 billion. His friends at the Capitol have been slightly less optimistic, with House Speaker Paul Ryan and Senate Majority Leader Mitch McConnell guessing it would cost up to $15 billion.
Turns out, they may all be wrong. According to a leaked Department of Homeland Security report, the wall will cost $21.6 billion. Commissioned by DHS Secretary John Kelly, the report is the "final step before moving forward with requesting U.S. taxpayer funds from Congress," Reuters reports. The report breaks into three phases a plan to construct a series of walls and fences across the 1,250 miles of border between the U.S. and Mexico that is currently without any barrier. The first phase is the easiest to complete and calls for $360 million to build 26 miles of wall near San Diego and El Paso.
The report's high estimated cost is due in part to the anticipated legal battles that will come as the government attempts to acquire private land needed to put the wall up. There are also bureaucratic issues that will cost time and money, including the waivers needed to get around environmental laws. The report also suggests it will take three and a half years to finish the wall, much longer than the two Kelly recently said it could take. With a September 2017 start, that puts the completion date after the 2020 election.