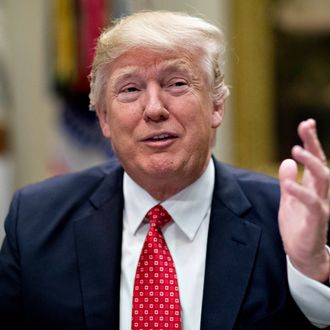 Ignored.
Photo: Andrew Harrer - Pool/Getty Images
It's become something of a tradition. As soon as President Trump fires off a tweet explicitly criticizing a publicly traded company, its stock price begins to dip. It happened again today, after Trump tweeted his criticism of Nordstrom, which recently dropped his daughter's fashion line. But then something else happened. After a momentary decline, the stock price rose. At post time, Nordstrom was trading at $44.20 a share, up 3.35 percent on the day.
Despite drawing the ire of the world's most powerful man, Nordstrom's stock price did not suffer, and it's not the first company to have those two things happen in quick succession.
Rexnord Corporation drew Trump's ire in December, when he called out the company for its plans to move a factory from Indiana to Mexico. Though its stock price responded with an initial downturn, it closed at a nine-month high Tuesday. And Wednesday, The Wall Street Journal reported the company is still planning to ship jobs to Mexico.
The day after his Rexnord tweet, Trump took shots at Boeing on Twitter and in the lobby of Trump Tower for what he saw as overcharging the government for its work on the Air Force One program. After a small drop that day, Boeing's stock price began steadily moving upward and currently sits about 8 percent higher than it was when Trump first tweeted.
The pattern holds for United Technologies, GM, and Ford, which all have higher stock prices today than they did when Trump tweeted about them. Toyota, which Trump warned, on January 5, of a "big border tax" in a tweet full of inaccuracies, is down since the January 5 tweet. But that's reportedly got more to do with disappointing earnings than Trump's admonishment.
If Trump really wants to teach a company a lesson, maybe he should try embracing them. Some of his unpopularity might rub off.