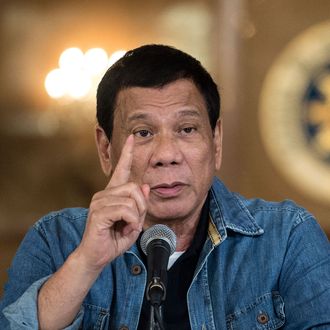 Rodrigo Duterte.
Photo: Noel Celis/AFP/Getty Images
When Rodrigo Duterte was elected president of the Philippines, in May, his victory came at the end of a campaign in which he had launched a series of violent threats at the country's drug dealers and users, promising a bloody war on drugs if he were elected — "Go ahead and kill them yourself as getting their parents to do it would be too painful," he said of drug users at one point.
He has kept that campaign promise: Since his inauguration, an estimated 7,600 people have been killed as part of his administration's drug war. While the policy ostensibly targets drug dealers and traffickers, human-rights groups and journalists have shown convincingly that a wide swath of Filipinos, some with little or no connection to the drug trade at all, and many of them simply users, have been summarily executed by both the police and by vigilante groups working either in coordination with, or the tacit approval of, law enforcement. Duterte, a bombastic figure, has bragged about the deaths, positively comparing himself to Hitler along the way (though he later apologized for that remark).
Now, Reuters reports that Duterte is looking to ramp things up further by lowering the age of criminal responsibility from 15 all the way down to 9. A bill that would do just that was actually introduced right around the time he was sworn in, and one of its co-authors says he expects it to be approved by the nation's congress within the next six months. "You can ask any policeman or anyone connected with the law enforcement: We produce a generation of criminals," Duterte said in December. Lowering the age, he insisted, would help teach Filipino youth "to understand responsibility."
Naturally, human-rights groups are opposed to the measure, pointing out that while there are other countries with low ages of criminal responsibility — it's ten in England, Northern Ireland, and Switzerland, for example — these tend to be places with much more developed, smoothly functioning criminal-justice systems than the Philippines' — and places where there hasn't been an epidemic of extrajudicial killings. Duterte faces some internal criticism of his plan as well: "Among the opponents of the bill is a member of Duterte's cabinet, Judy Taguiwalo, secretary of the [Department of Social Welfare and Development]," notes Reuters. "The legislation runs counter to scientific knowledge about child development and would result not in lower crime rates but in more children being detained, Taguiwalo wrote in a letter to the House of Representatives in October."
Still, Duterte and his allies insist that the action is necessary given the number of children involved in the drug trade, even as the numbers tell another story: From 2011 to 2016, according to the country's own statistics, just 80 children under the age of 15 were rescued from drug-trade activity by Filipino authorities.