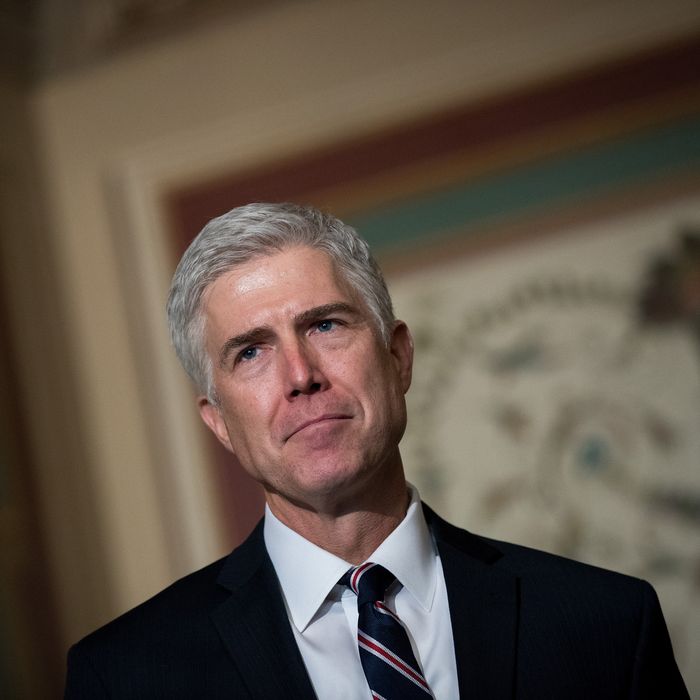 Neil Gorsuch bites the hand that feeds, according to a New York Sun editorial.
Photo: Drew Angerer/Getty Images
To most observers not on the literal or psychological payroll of Donald Trump, his dark mutterings and implied threats against the independence of the federal judiciary via attacks on district judge James Robart and the Ninth Circuit Court of Appeals for daring to hear challenges to his travel-ban order were more than a bit disconcerting. So it was only moderately surprising to learn that Trump SCOTUS nominee Neil Gorsuch, himself a member of the Tenth Circuit, told Democratic U.S. senator Richard Blumenthal, of Connecticut, that he was "disconcerted" by the attacks.
Trump's first response was to shoot the messenger by attacking Blumenthal and suggesting he was lying about the conversation with Gorsuch. But similar Gorsuch comments are being confirmed by a Republican senator, Ben Sasse of Nebraska. So a plan B for Team Trump may be in order.
An editorial in the New York Sun may show where we are heading next: a criticism of Gorsuch for committing a "gaffe" when everybody knows Trump was absolutely right.
What in the world was Judge Gorsuch thinking? …

Certainly Mr. Trump is ahead of his critics in his understanding of this situation — just as he was ahead of the entire Republican field, not to mention the Democratic intelligentsia, in understanding the politics of the 2016 election. Every single voter who cast a ballot for Mr. Trump comprehends that the 9th Circuit is behaving in a political fashion. If it weren't, the Circuit would have dismissed the lawsuit from the State of Washington for the ideological grandstanding that it was.
Really? We are apparently to believe every single Trump voter said to every other Trump voter earlier this week: Hah! That damned liberal Ninth Circuit is behaving in a political fashion again!
Actually the Sun doubles down on that bizarre assertion:
Every sentient voter in America gets this. It is hard to think of a campaign promise in the whole history of the Republic that was more clear than Mr. Trump's vow that he was going to tighten up on immigration until he can get a handle on the situation in the middle of this war. So what if it wasn't everyone's priority? That it was one of the mandates the voters gave to the winner of this election is unmistakable. Since when did it become unconstitutional to keep campaign promises?
Um, well, there's the problem that it is hard to discern mandates for a presidential candidate who won only 45.9 percent of the popular vote, and was not even approved of by a large slice of the voters he did win. More important, promising to do something on the campaign trail does not make that something constitutional. If that were somehow the rule, we'd have candidates promising to lock up all the bad people by executive order and give all the good people their money.
Constitutional limitations on the political branches of the federal government are not always popular, which is why the judiciary needs to be independent. But that reasoning seems to elude the Sun, which appears to think the courts have no mandate for what they do unless it's popular:
In a Pew poll from late 2015, a favorable view of the Supreme Court obtained among but 50% of Americans. The percentage of Americans who had a great deal or quite a lot of confidence in the Supreme Court slumped to 36 in the decade ending in 2006, according to Gallup. Where Americans confidence reposes, it turns out, is in the military, the police, and religion. The Supreme Court's slide is what's disheartening.
Hmmm. Wonder what could have happened between 1996 and 2006 that might have made the Court temporarily so unpopular? Was it an arrogant act of defiance of a Republican president who failed to win the popular vote? Not exactly.
If this is the best the Sun, or other Trump defenders, can do, they'd best go back to denying that Gorsuch is saying what he's saying, while behind the scenes reminding him he is complicating his own confirmation hearings.