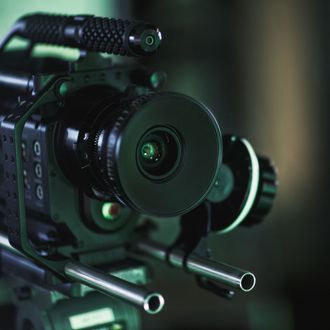 Start-up Rumuki calls itself a "prenup" for sex tapes.
Photo: powerofforever/Getty Images/iStockphoto
Start-up Rumuki is branding itself as a "prenup" for sex tapes. The app is currently available on iOS, lets users easily encrypt videos, and sets limits on who can share them and how many times a video can be shared. Cutesy language aside — "use protection" — the whole thing doesn't sound like a half-bad idea, though it's unfortunate we need it in the first place.
The app's name derives from a Japanese-to-English translation for "room key" and works by only allowing involved parties to view a video after filming, if both people have consented. If you and your partner decide to film something you want to keep private — sex tape, your next-door neighbors, whatever — you both download the app. Once you're done filming, each of you will be given a passcode. If one of you wants to view the video, you'll both have to input your codes, granting temporary (seven days) digital consent to view. If one partner decides they no longer want the other to have access to the video, they can easily delete it from their device. "Because each device only has one key, your video is as good as gone when removed from either device," Rumuki explains.
From a more technical side, Rumuki says it doesn't store any content shared or filmed on its app. Videos are only transferred between users via Bluetooth or Wi-Fi, so they could only be accessed by someone hacking your own local network. (You can read more details on Rumuki's security practices here.) While the app is not a perfect fix — there's nothing Rumuki can do if your partner decides to turn on you once access has been granted — it's a start. Especially given that one in every 25 Americans have faced or been threatened with "revenge porn."