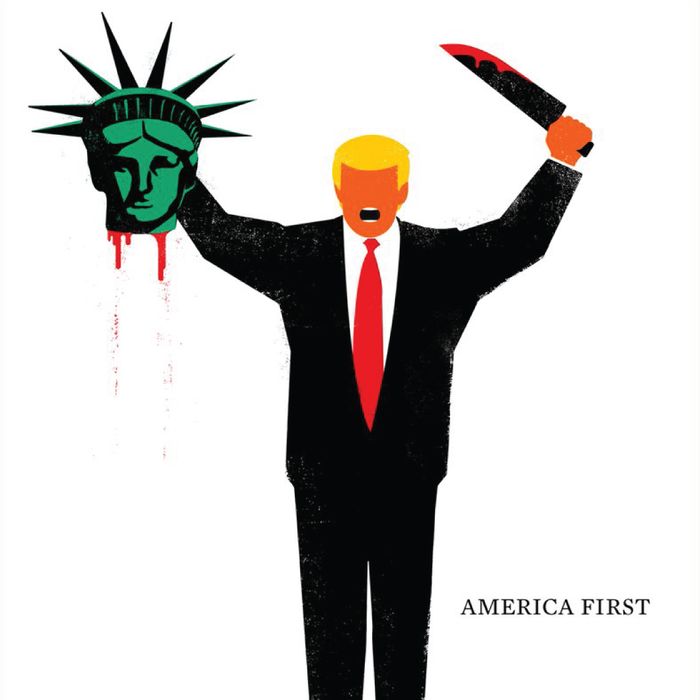 Photo: Edel Rodriguez/Miles Donovan/Der Spiegel/Economist
Donald Trump has always given magazine editors a lot to work with when it comes to dreaming up cover images, and that definitely hasn't changed now that he's president, especially in light of the outrage over his now-suspended travel ban targeting refugees and the citizens of seven predominantly Muslim countries.
The latest cover of Germany's Der Spiegel magazine is turning some heads after publishing an illustration featuring President Trump having beheaded the Statue of Liberty next to the message "America First":
The Washington Post reports that the illustration was done by Cuban-American freelancer Edel Rodriguez, who came to the U.S. as a political refugee in 1980 when he was nine years old. And yes, the parallel with ISIS was intentional, according to Rodriguez, who told the Post that the image represents a "beheading of democracy" and that "both sides are extremists, so I'm just making a comparison between them."
It's not the first time Trump has beheaded Lady Liberty on the cover of a publication, either — The Daily News went there a year ago.
Rodriguez, who Ad Week celebrated as one of last year's most creative people, also illustrated TIME's epic Trump Meltdown covers in August and October, as well a whole bunch of other Trump images and another striking Der Spiegel cover from right after the election:
Meanwhile, The Economist's new cover, featuring stencil art by British illustrator Miles Donovan, casts Trump in a more anarchist light:
And in Ireland, a left-leaning monthly called Village has put Trump in the crosshairs, though the accompanying piece apparently makes an argument against "tyrannicide":
Meanwhile, back here in the U.S., The New Yorker has also gone with a foreboding Statue of Liberty image by illustrator John W. Tomac in which Lady Liberty is flameless instead of headless:
Speaking with The New Yorker about the illustration, Tomac commented that "it seems that we are turning off the light." It's also the magazine's annual anniversary issue, but they opted against the traditional Eustace Tilley-inspired image in light of the news of Trump's travel ban.
Finally, for their latest issue, Bloomberg Businessweek put on a meme-maker's hat and took advantage of Trump holding up a piece of Photoshop-able paper to comment on the haphazard nature of many of Trump's recent executive orders: