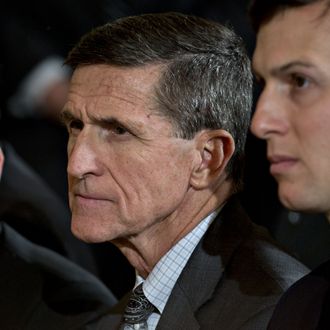 Michael Flynn.
Photo: Andrew Harrer/Bloomberg via Getty Images
When discussing Michael Flynn's resignation on Tuesday, White House press secretary Sean Spicer was not clear on whether White House counsel needed 17 days to figure out if the national security adviser's December calls with Russia's ambassador were legal, or if he made that determination "immediately." Regardless, it seems unlikely that Flynn will be prosecuted under the 218-year-old Logan Act, which bans private citizens from negotiating with foreign governments. However, Flynn may be in legal trouble if he lied to the FBI.
The New York Times reported on Tuesday evening that FBI director James Comey sent FBI agents to interview Flynn on his calls with Sergey Kislyak during his first few days on the job. The FBI had briefed the Obama administration on the potential Logan Act violation after the calls were intercepted as part of routine U.S. surveillance. New concerns were raised when Spicer denied that Flynn had mentioned sanctions on the calls during his first full press briefing on January 23.
It's not clear what Flynn said in the interview, whether his lawyer was present, or if the Trump administration knew about the interview beforehand. But if Flynn told the agents that he hadn't mentioned sanctions on the call, as he'd been saying publicly, that would be a felony.
On January 26, acting attorney general Sally Yates informed new White House counsel Don McGahn that there were discrepancies between the intercepted calls and what Flynn was claiming publicly. Spicer said President Trump was informed "immediately," and directed McGahn to look into the matter.
"[Flynn] is at serious risk of being prosecuted if he told the FBI what he told the vice president," former Obama White House ethics lawyer Norm Eisen told Politico.
However, others questioned whether Flynn would actually face legal trouble if he did lie to the FBI. Politico noted that the final decision on criminal charges lies with the Justice Department. Democrats are pressuring new attorney general Jeff Sessions to recuse himself from investigations into the Trump team's relationship with Russia owing to his role as a Trump surrogate on the campaign trail. However, advisers to Sessions told the Times they see no reason for him to remove himself from the case.