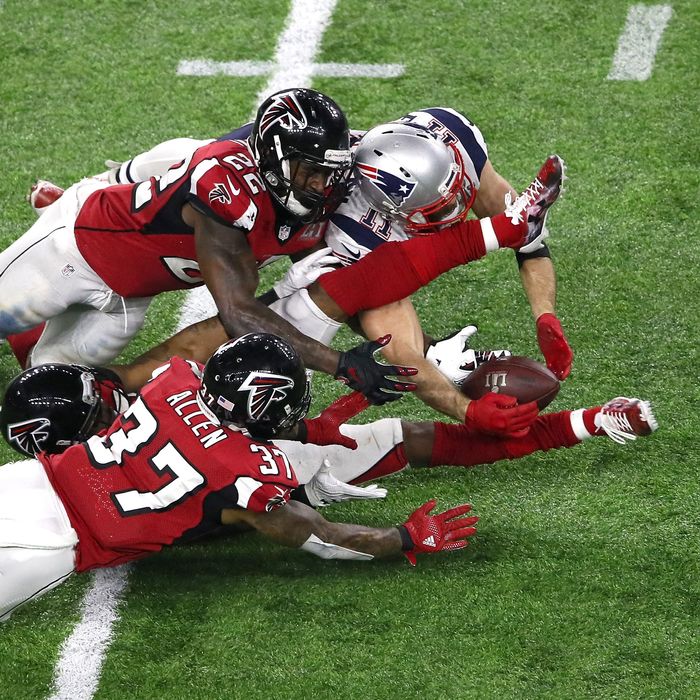 Julian Edelman #11 of the New England Patriots makes a 23 yard catch in the fourth quarter against Ricardo Allen #37, Robert Alford #23 and Keanu Neal #22 of the Atlanta Falcons.
Photo: Ezra Shaw/Getty Images
"Do you ever get the feeling that the world is a tuxedo and you were a pair of brown shoes." – George Gobel
It was Saturday afternoon the day before the Super Bowl and, for the first time, it finally felt real.
The Atlanta Falcons had qualified for the big game, a reality that I kept listening to but still could not hear. After arriving in Houston on Wednesday, I roamed the downtown area daily, seeing the word Falcons next to the phrase Super Bowl, but it still didn't make any sense. This was a team, after all, that was championship-less in the 51-year history of the NFL, the home football team of a city that has only one championship in the four major professional sports, that being the 1995 World Series.
As a point of comparison, Boston teams have won at least one in all four sports since 2000, nine in total during that time period (four Super Bowls, one Stanley Cup, three World Series, and one NBA Championship).
The last time the Falcons were close to the Super Bowl was 2013, making it to the NFC Championship game. I left Barack Obama's second inauguration to fly home to Atlanta for this game, bringing my mother and aunt to be witnesses to this historic moment. Early in the second quarter, the Falcons were leading the San Francisco 49ers 17–0.
The Georgia Dome was a zoo. We could all feel it. We were going to the Super Bowl.
At halftime, we were up by 10, 24–14.
The Falcons never scored again. And the 49ers advanced to the Super Bowl, winning 28–24.
So yes, actually making it to the Super Bowl was surreal. But as I traversed Houston, there was also a fear that walked alongside me, black cloak and scythe in tow, serving as a reminder that as exciting as this was, this could also backfire colossally.
I arrived in Houston with 37 cents in my bank account, a midair victim of identity theft. Bad omen.
Then, walking out of the Bank of America waving my fist at the sky and legitimately regretting this trip, I checked my texts. Every text was in all caps.
BEYONCÉ KNOWLES IS HAVING TWINS. BEYONCÉ KNOWLES IS FROM HOUSTON. ATLANTA IS IN THE SUPER BOWL IN HOUSTON. I AM FROM ATLANTA. IT'S ALL HAPPENING.
Good omen. This was the only thing that could have improved my mood, and it did — a true foreshadowing for the week ahead. The slightly delusional narrative that this was Atlanta's time was repeatedly met by something to scare the hell out of me, followed by a completely unrelated something else that I could convince myself was a sign that the Falcons would win the Super Bowl. It's what Falcons fans had all been doing for weeks, convincing ourselves that Donald Glover and Migos and John Lewis would carry us to victory as much as Matt Ryan and Julio Jones. And that irrational belief made sense: Relying on Atlanta athletes alone hasn't worked out too well, because we needed everything — signs, omens, crystals, everything — to be in sync for this to finally work.
But this whiplash way of thinking meant that the more I thought about football, the more nervous I became about the game. So my strategy became to fill my waking hours in Houston with distractions, while putting myself in positions to have people see me — draped in Falcons gear as a smokescreen of confidence — and assure me that they thought it was "our time."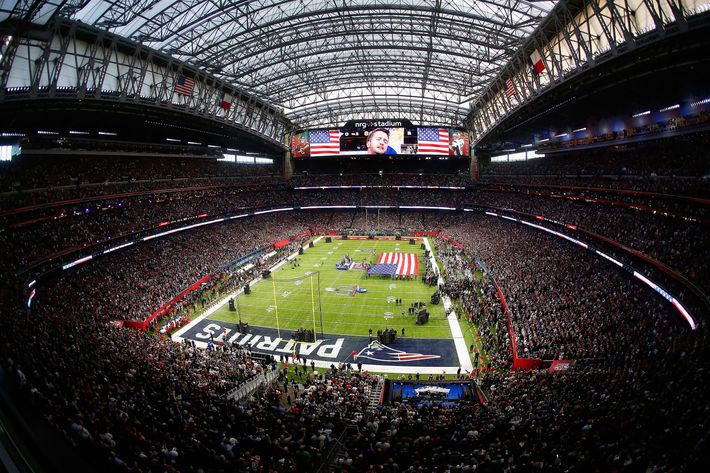 One of the best sites for consistent distraction was the main Super Bowl hotel — the Hilton Americas — which provided a packed lobby, a bar, and a catwalk for people to temporarily act as famous as actual athletes. It was a reminder that the Super Bowl is the all-star game for on-air television talent. Sitting at the bar, you can just spend hours watching the kind-of-famous (and the agents who kind of love them) have stand-up meetings in the center of the lobby, so everyone can watch or go up to them and ask for pictures.
Nothing about this is accidental and it's truly phenomenal to watch, the insecure celebutanteness of it all — like when the juniors and seniors are gone and the sophomores get to act like the kings and queens of school. If you've spent time in the sports-media universe, that makes it even better — an opportunity to lock eyes with the people you mock online in real life, people who know who you are and don't like the fact that you're wearing a bucket hat and yellow tinted shades surrounded by suits and not walking by to come kiss the ring.
The main hotel bars at the great sporting weekends like Super Bowl and NBA All-Star Weekend are legendary places to people-watch. But there's no barrier to entry in these spaces, and by the second or third day, they become entirely packed with people, because word gets out. To find the actual athletes, to see some truly silly things, you have to go a bit off the grid — know some people, be in the right place at the right time, be sneaky, lie all the time, and get lucky.
At the end of each night in Houston, something absurd enough happened to again make me forget that my Falcons were in the Super Bowl. There are always the one or two big parties that hundreds (or thousands) of people try to get into, but at some point — reliably — a surprising someone presents you with an interesting detour off the beaten path, something you always respond to with "absolutely." One night, for example, I was underdressed at an extremely fancy party sponsored by CAA, which led to sneaking into an EA party unfortunately headlined by music's Menendez Brothers, the Chainsmokers, which then led to sitting three seats over from Terrell Owens in a private section of a bar that did not merit private sections, patiently hoping one of his friends would pass me a pineapple vodka.
On another night, network rivals Fox and ESPN both had parties, the former of which included a man on stilts and the latter a performance by Fergie. Once I found a way to the top floor of the ESPN party, however, it was a reminder that all rivalries crumble in the VIP. You know, kind of like Hillary and Bill at Trump's wedding or something. By the end of the night, I'd agreed to work for both companies at the same time, and said that if the Falcons won I'd report live from Atlanta's famed Magic City strip club.
This pace got me to Saturday afternoon. After three full days of experiencing the many different waves of Super Bowl week, including doing videos, going on television, and recording podcasts, all in the name of discussing my love for and nervousness about the Falcons, I finally crashed.
Two weeks prior, football had become a much-needed distraction from the happenings of the real world. But with only 24 hours left until the Super Bowl, exhausted from partying, terrified by football, and unwilling to go back into politics for one more day, I laid in my bed in the middle of the afternoon and flipped through the channels.
News. Football. Football. News. News. Football. News.
Just when I was ready to give up on television, one station fully stopped me in my tracks. I landed on the channel, four minutes into an infomercial, advertising a ten-DVD set of the Best of Johnny Carson. I didn't know this was what I wanted, but it was exactly what I needed.
I turned the volume up, turned my brain off, and just laughed. Seeing a nervous Oprah Winfrey hit The Tonight Show stage, alongside Jerry Seinfeld (whom she'd apparently never met before) was remarkable. Watching Carson riff reminded me of Dana Carvey impersonating Carson, which then led to me watch "Carsenio" four times, damn near crying with laughter. And seeing Dom DeLuise go back and forth with Johnny Carson transported me about as far away from Trump, the Falcons, and the idea of going out as I could imagine. It was an incredible hard reset, so much so it almost felt as if I'd just gotten to Houston.
One of the final sketches was from a 1969 episode of The Tonight Show. The first two guests were Bob Hope and Dean Martin — both veterans and superstars. The final guest was the lesser-known actor and comedian George Gobel. He walks onto the stage with a clear plastic cup, most certainly a few drinks in.
With Bob and Dean sliding over so George can sit closest to Carson, he begins a bit filled with self-deprecation. Early in his story, clearly the odd man out, he asks a question:
"Do you ever get the feeling that the world is a tuxedo and you were a pair of brown shoes?"
The room erupts in laughter, and then Gobel takes another big sip from his cup. Once the howling dies down, Gobel continues:
"And I have a feeling it's gonna get worse before it gets better."
The laughs continue and Gobel stumbles through a series of drunken stories. While this is happening, without Gobel noticing, Dean Martin begins to ash his cigarette in Gobel's drink, something Hope and Carson and the studio audience find hysterical.
Still laughing at the bit, I went downstairs and ordered some gumbo, had a drink, decided it was time to pack for an early-morning flight out of Houston to Atlanta. I was over all the glitz and pomp surrounding the Super Bowl and truly just wanted this game to finally happen. I was going to give up a Super Bowl ticket to watch the game with my friends back home, a decision that felt true and honest. When asked about that decision, my prepared answer was that I wanted to be home for the greatest celebration the city might ever see.
I said it so many times I actually began to believe it, but I knew it wasn't the truth. The reality was that I needed a break from this Atlanta fan caricature I'd developed and, win or lose, it'd be more of the same in Houston. Win or lose in Atlanta, it'd be my purest emotion — extreme elation or devastating sadness. Either way, I'd be feeling something.
This extremely emotional spurt I was having over hotel gumbo was immediately interrupted by Ezekiel Elliott, who had come down to the bar and, only feet away, asked the bartender for a "quadruple Patrón on the rocks."
Twenty-one-year-olds are the absolute worst. I loved it.
Watching the bartender say "no" was a highlight, as was watching another player in the bar trade his number with two women, and one of them asking a second bartender, "Who was that?" after he left the hotel.
That second player was a comical reminder of an event like the Super Bowl. If you're at least six-foot-two, black, and have a beard, there's a 92 percent chance someone is going to ask to take a picture of you. That's the funny part about football: It's a helmeted sport, so you're often as familiar with NFL players' butts as you are with their faces.
I stayed and watched more potentially real NFL players come in and out of the hotel lobby, all being treated like superstars. It was a nice reminder that there was still fun to squeeze out of the absurdity of this weekend. There was, after all, a retirement party for Michael Vick later that night co-hosted by Vick and Gucci Mane. And before that, I was set to go to a dinner sponsored by Nike with special guest ex-Falcon Warrick Dunn.
There was so much Atlanta on the horizon. There's no way it could be coincidental — it must be another sign.
Just like that, I was back in narrative mode. It was truly remarkable how unstable I'd become. Just like I'd been saying for the past two weeks, everything that could mean something but definitely didn't actually mean anything most certainly felt like an omen. On Thursday, for example, the Atlanta Hawks came into Houston and beat the Rockets in thrilling come-from-behind fashion. Sign. The next day, I went to the first half of the Rockets-Bulls game and they were honoring Yao Ming. In attendance: former Hawk Dikembe Mutombo. Sign.
It all just seemed too right — there was too much Atlanta in life for this all to blow up in my face.
I never packed my bag Saturday afternoon and now it was 5 a.m. on Sunday morning. I also was not headed to the airport; I was on hour two at an after-hours warehouse in Houston — a place I was driven to by someone that my friend just met — following a stint at a Vanity Fair black-tie-ish party that required telling the bouncer with the iPad that I was an ESPN executive and that I was fully aware that my white T-shirt and yellow anorak was a "different look" simply to gain admission.
I was having fun all night, but I also could feel my nerves about heading back home.
The day had finally come, and I was filled with dread, so I didn't want to go to sleep. I recognized that the only thing that could destroy this anxious elation, this city-wide pride, and this feeling of real hope and belief that had steadily risen over the past few weeks was the actual game.
The two weeks leading up to the Super Bowl were about as much fun as I've had as a sports fan. It felt nice to be noticed. To be discussed. To have people on your side. To finally have respect.
I'd grown tired of, professionally, chronicling Atlanta's sports sorrow. It was exhausting to get excited, to then fall on your face. And if any moment seemed like one in which I'd get to discuss triumph over loss, it was this Super Bowl.
But even with that reality within reach, the game could also turn out so terribly that we'd go from being invisible to a laughing stock. We could get blown out or, even worse, we could get up in the game, taste it, and then lose it at the end. Fans, myself included, spoke all season about how we didn't mind being under the radar — but it's Atlanta, the land of civil-rights leaders and rappers and mega-preachers and reality television. We love attention. And more than that, we love to talk our shit — we're really good at it, even when we don't have a leg to stand on.
I knew I could handle another letdown — we all could — but I wanted our city to feel that emotion that so many have felt. Watching both Cleveland and Chicago have their moment this past year, seeing so many people close to me go through that joy, only intensified the desire.
And I wanted to be home for it. For that joy. For those tears. For the city. For the parade. For the A.
Robert Alford picking off Tom Brady and walking that interception into the end zone like it was Freaknik to put the Falcons up 21–0, deep into the second quarter, was the moment I knew we were actually going to win the Super Bowl. Every thought I'd suppressed in the spirit of never being sure, of jinxing, of there's a lot of game left, was gone. I was hugging a guy in another section of the Atlanta bar STATS, then running into my section filled with friends I grew up with and everyone was just screaming at each other.
I thought about my guy, fellow journalist Lang Whitaker, whom I watch Falcons games with in New York, and who is an Atlanta native and probably losing his mind in the arena in Houston. I thought about my friend from high school Bradley who left me a voice-mail of hope before the game who was certainly talking felonious amounts of shit to any Pats fans that might be near. I thought about D-Roc from the Ying Yang Twins, who bought me a Fireball shot in the Houston airport en route to Atlanta, and after we drank it screamed, "HANH." I thought about my uncle, who has been a Falcons fan since one could be a Falcons fan, who would finally have a reason to celebrate, and who was going to write the longest, best Facebook post about it. And I thought about myself.
The game wasn't over and my body had never felt like this. I was speechless. In the moment when I thought I'd have everything to say, I got really quiet and extremely happy.
When the score hit 28–3, however, I was beating my chest. I knew this version of myself — brash and loud and unwavering in my confidence — but never in a game that mattered, never in the game that finally proved you were the best, that you — finally —were a winner.
Yet again, the Falcons never scored again.
Up by 25 points, 28–3, in the third quarter of the Super Bowl, with 100 million people watching, the New England Patriots won the Super Bowl 34–28.
Sitting on my mother's couch in Atlanta watching the Patriots parade Tuesday morning, it truly didn't make any sense. We choked. All morning I tortured myself, watching replays, listening to commentary, and worst of all, seeing former players repeatedly say they'd rather not be in the Super Bowl than lose in the way the Falcons did.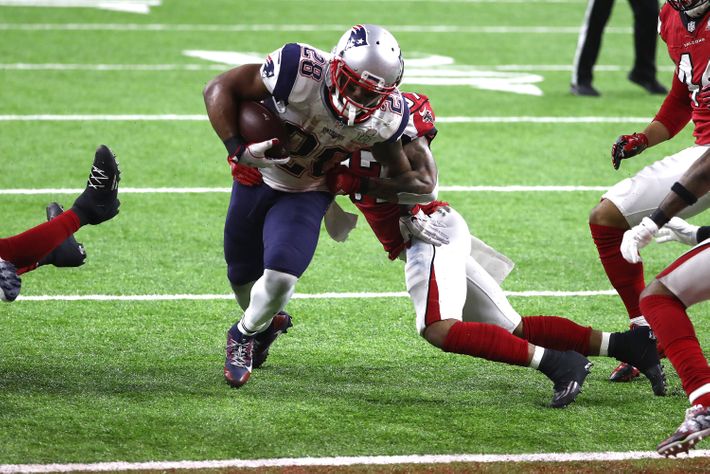 With the coverage going in and out of the parade, I kept catching myself smiling as Brady and Belichick and Kraft made speeches. I can't stand them, but my body was responding the way I'd always responded watching other teams' parades — a smile of longing for that feeling. Each time I felt the smile happen, I'd stop it from going full teeth out of shame, but it kept coming back. I wanted it, we had it, and then it was gone.
Atlanta is a city of legends, but not a city of winners — not yet at least. It's part of our DNA, style often more than substance. It's why we thought the signs were real, because that's the stuff we love: the mythology that surrounds the city that everyone knows about but no one understands. It's why, over the years, we've fallen in love with players like Dominique Wilkins and Michael Vick — players that brought home no rings, but made the city feel cool, because they were so electrifying.
It's also why we're thought of as fans of indifference, because it's hard for most to understand a place that doesn't put winning over everything.
For a few weeks, though, I understood how everyone else felt — with being a winner mattering more than anything else. It was a foreign feeling, but it felt good. It was fun. It was contagious. It was passionate. And after losing, in the fashion we lost, it hurt — because not only were we not winners, but we were beginning to feel like losers.
Turning off the television to pack and finally leave Atlanta, I stopped and had one final dumbfounded laugh.
George Gobel's brown shoes in a sea of tuxedos — that was Atlanta. And more than any other moment I can ever remember, I felt like that stiff drink, except I knew that someone was ashing in my cup. But, for now, I kept taking sips — I'd just run out of the energy to care. Maybe tomorrow.