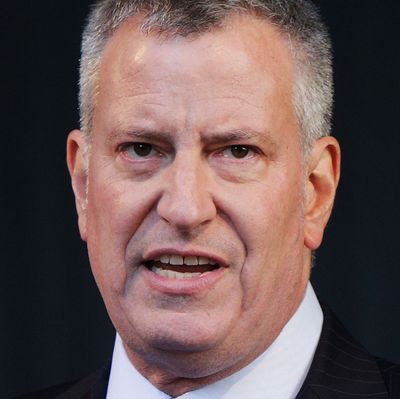 Bill de Blasio vs. U.S. Attorney Preet Bharara.
Photo: Drew Angerer/Getty Images
New York City Mayor Bill de Blasio confirmed last month that he would sit down with federal prosecutors, who are investigating the fundraising activities around his 2013 mayoral campaign and his now-shuttered nonprofit. The interview, which is supposed to happen in early February, appears still to be a go. But in a surprising move, U.S. Attorneys will question the mayor in his territory — or more specifically, in the offices of de Blasio's attorney, reports the New York Times, instead of on Preet Bharara's turf. The session will last four hours and cover at least a dozen topics, sources say, though it's unclear exactly what those might be.
Federal prosecutors are probing whether donors received special favors for giving to the mayor's campaign, or to Campaign for One New York, de Blasio's nonprofit, which disbanded last year. A grand jury has reportedly convened around the investigation, which may be honing in on at least one issue: the mayoral campaign's relationship to Queens restaurateur Harendra Singh. Singh is believed to be cooperating with authorities, and faces separate federal charges for a Hurricane Sandy–related fraud scheme and another where he allegedly doled out favors to Long Island politicians. But grand-jury proceedings are secret, so details are scarce on the line of inquiry Feds are pursuing.

Prosecutors with the Manhattan D.A.'s office have also interviewed de Blasio, though that's a different investigation into possible violations of campaign-finance law during the 2014 State Senate races. A grand jury also met in that case, though de Blasio said he was not questioned by it.
De Blasio has consistently denied any wrongdoing. "I was very willing to go in," the mayor told NY1 about his future meeting with the lawyers for the U.S. Attorney. "I look forward to going in. I'm happy to set the record straight that we did things the right way."