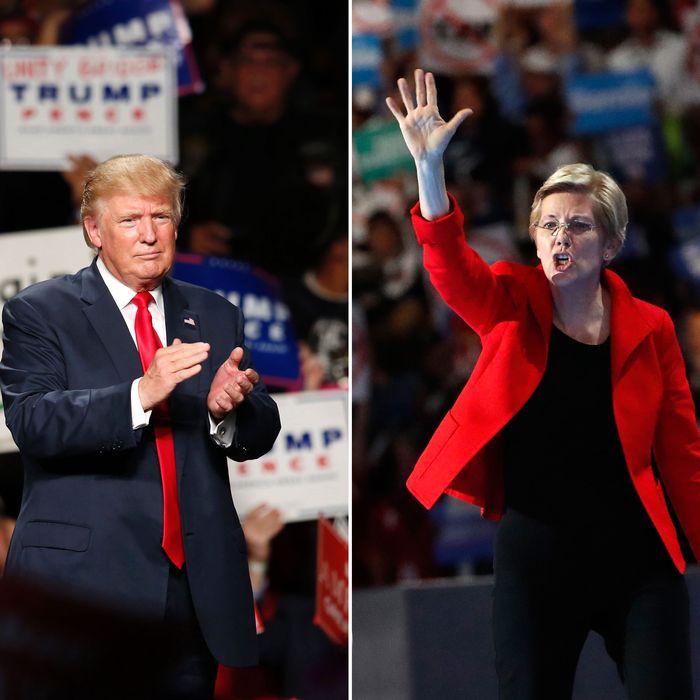 The universally notorious Trump leads the less-than-universally-known Warren in what Politico is calling a warning for Dems not to "lurch left."
Photo: Aaron P. Bernstein; Jeff Kowalsky/Getty Images
Even as the political commentariat continues to argue about what happened and why it happened last November, the first horse-race poll for 2020 has appeared — at Politico, of course.
The 2020 trial heat from Politico's polling partner Morning Consult is a two-trick pony: It matches Donald Trump against a generic (i.e., unnamed) Democrat, whom he trails 35/43, and against Senator Elizabeth Warren, whom he leads 42/36.
The numbers lead Politico's Jake Sherman to the doubly dubious conclusion that "Democrats could be in trouble — and Trump could triumph — if they continue their lurch to the left." This assumes Democrats are currently engaged in some sort of "lurch to the left," a very Trumpian construction of events, and that Warren is perceived as some sort of crazy lefty. Truth is, Warren is not remotely as well known as is Trump; in a separate question in this poll, we learn that over a third of respondents have no opinion of Warren — 16 percent have never even heard of her. The name-ID gap is almost certainly a better explanation of the preference gap between Trump and Warren than any ideological imputation. It is also not unusual for a generic candidate to do better than a named candidate in this sort of poll; it was a regular feature in polls matching named and unnamed Republicans against Hillary Clinton going into 2016.
So there's a lot less than meets the eye in this survey, particularly since it did not offer any comparisons to the performance of Democrats that Jake Sherman thinks do not represent some "lurch to the left." It's never good for a universally known incumbent to poll so far under 50 percent, but then again, Donald Trump will have a tolerably long time to improve or degrade his position.
In some much less premature polling in the same survey, Morning Consult finds that Presidents Calvin Coolidge and Willam H. Taft have nearly identical approval/disapproval ratios. The taciturn Coolidge comes in at 32/15, and the rotund Taft is at 32/14. Like Elizabeth Warren, these former presidents suffer from a high percentage of people who have no opinion of them. Enough said.