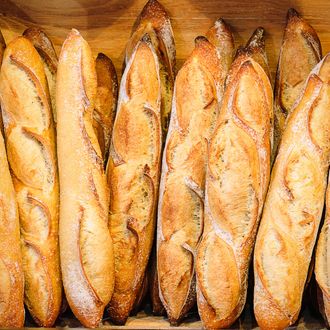 Fling founder, Marco Nardone, once threw a baguette at his father's head after his app was pulled from the Apple Store.
Photo: Drazen_/Getty Images/iStockphoto
In 2014, British start-up founder Marco Nardone dreamed up an idea for an app. The app, Fling, would let users send pictures and videos to 50 complete strangers around the world at a time. If this sounds like a recipe for dick pics and disaster, you'd be right. (Think ChatRoulette.) Though at the time, it didn't seem like anybody knew how much of a disaster 28-year-old Nardone's app would be: Fling went from a promising start-up with over $20 million in funding to a now-defunct app with ex-employees sharing stories about a boss who once tried to purchase desk tents to force employees to work round the clock without ever leaving the office.
The problems with Fling, highlighted in a truly [Italian-chef-kissing-fingers-gesture] report today from Business Insider, seemed to begin as soon as the app was conceived. While Nardone told his staff the app's user growth was organic, he was actually pumping money in "social media marketing" to draw users. According to former employees, Nardone likened himself to Snapchat's Evan Spiegel and Tesla's Elon Musk. He frequently spent company money on lavish dinners and trips and, well, things the company didn't need, like a weekend getaway for an Avicii concert in Ibiza (while his employees lingered at the office dealing with a crisis), or a pricey office space complete with neon ceiling lighting, which his developers complained made it hard to see their screens and do their work.
The straw that broke the Fling camel's back was the moment when the app was removed from the Apple App Store. In an email from Apple to Fling obtained by Business Insider, the start-up was told the "randomized pairing of strangers for chatting" was being removed because Apple's app guidelines aim to "prevent pornographic content." After initial complaints of lewd images being shared on the app — which, duh, — Fling hired a team of moderators, but issues of explicit content continued to plague the app as Nardone "clamped down on male nudity," but did not do the same for women, BI reports.
The app-store removal prompted Nardone to demand all-day and all-night work from his staff to get Fling back up and running according to Apple's standards. (A little over two weeks later the app did return to the app store, but it wouldn't last. Fling shut down during summer 2016 with little fanfare.) This was where Nardone's let's buy desk tents to keep people working idea popped up, an idea which his father, a major investor in Fling, stepped in to stop. Nardone's response, according to several ex-employees, was to throw a Pret a Manger baguette at his father's head. "Nardone also threw a cup of miso soup at his head of design in front of the whole office," according to BI. Oh, and another employee said he was also known to throw chairs around. Frankly, the baguette sounds most ideal.