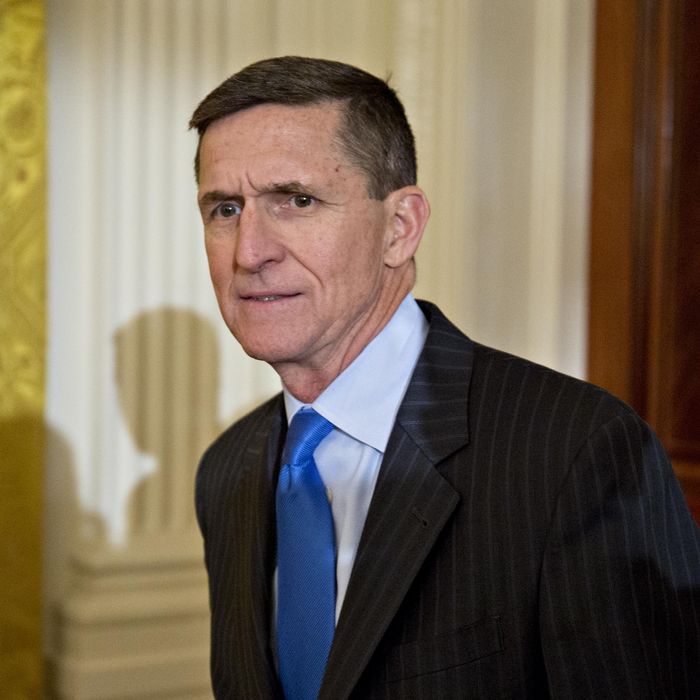 Michael Flynn.
Photo: Andrew Harrer/Bloomberg via Getty Images
Several current and former U.S. officials say National Security Adviser Michael Flynn discussed new sanctions imposed on Russia by the Obama administration during conversations with that country's ambassador in December. That may be illegal, and to make matters worse, it contradicts denials made by senior members of the Trump administration, including Vice-President Mike Pence.
The Washington Post reported on Thursday that nine current and former U.S. officials who had access to intercepted communications between Flynn and Russian ambassador Sergey Kislyak say that Flynn made explicit references to election-related sanctions. Two said Flynn even urged Russia not to overreact. "Kislyak was left with the impression that the sanctions would be revisited at a later time," said one former official.

When the Post asked Flynn on Wednesday if he ever discussed sanctions with Kislyak, he said no. Then, on Thursday, his spokesman walked that back, saying Flynn "indicated that while he had no recollection of discussing sanctions, he couldn't be certain that the topic never came up."
Flynn exchanged phone calls and texts with Kislyak a day before the Obama administration imposed new sanctions and expelled 35 Russian diplomats over the Kremlin's alleged attempt to meddle in the U.S. election. The Logan Act, an obscure 1799 statute, makes it illegal for civilians to negotiate with foreign governments in disputes involving the U.S. government. It's unclear if someone could be successfully prosecuted under the act today, but regardless, it does not look good for Trump's top national security adviser to be discussing policy with Russia as the nation is being punished for its alleged efforts to swing the election in Trump's favor.
As reports emerged that U.S. intelligence agencies were looking at Flynn's intercepted communications with Kislyak as part of their wider investigation of Russia's involvement with the election, White House Press Secretary Sean Spicer said Flynn and Kislyak were merely trying to set up a call between Trump and Vladimir Putin for after the election.
During a January 15 appearance on Face the Nation, Pence insisted that there was no discussion of sanctions with Russia, citing his conversation with Flynn:
MIKE PENCE: I talked to General Flynn about that conversation and actually was initiated on Christmas Day he had sent a text to the Russian ambassador to express not only Christmas wishes but sympathy for the loss of life in the airplane crash that took place. It was strictly coincidental that they had a conversation. They did not discuss anything having to do with the United States' decision to expel diplomats or impose censure against Russia.

JOHN DICKERSON: So did they ever have a conversation about sanctions ever on those days or any other day?

MIKE PENCE: They did not have a discussion contemporaneous with U.S. actions on–

JOHN DICKERSON: But what about after–

MIKE PENCE: –my conversation with General Flynn. Well, look. General Flynn has been in touch with diplomatic leaders, security leaders in some 30 countries. That's exactly what the incoming national security advisor–

JOHN DICKERSON: Absolutely.

MIKE PENCE: –should do. But what I can confirm, having spoken to him about it, is that those conversations that happened to occur around the time that the United States took action to expel diplomats had nothing whatsoever to do with those sanctions.
An administration source appeared to throw Flynn under the bus, suggesting to the Post that if what Pence said was incorrect, it's Flynn's fault:
A third official put it more bluntly, saying that either Flynn had misled Pence or that Pence misspoke. An administration official stressed that Pence made his comments based on his conversation with Flynn.. The sanctions in question have so far remained in place.
Putin announced a day after the sanctions were imposed that there would be no retaliation until Moscow could assess Trump's policies, which increased the officials' concerns about Flynn's conversations. Several emphasized that while Flynn might have suggested that the sanctions could be reviewed under the Trump administration, he did not explicitly promise that they would be reconsidered after the inauguration.
Since Flynn is a retired U.S. Army lieutenant general and director of the Defense Intelligence Agency, he knows that such communications are monitored by the U.S. The New York Times reports that, in light of Flynn's background, federal officials who saw the transcript were surprised he made the remarks, and even more surprised that the Trump administration publicly denied that sanctions were discussed.