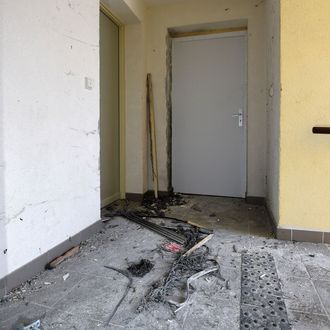 The suspects' apartment in Montpellier.
Photo: Sylvain Thomas/AFP/Getty Images
French police arrested four people, including a 16-year-old girl, who were allegedly plotting a terror attack in Paris. Authorities uncovered a bomb-making workshop in the apartment of one of the suspects, located in the far southern French city of Montpellier.
Officials have not named the four people apprehended, but they included three men — ages 33, 26, and 20, and one teenage girl, who is a girlfriend of the 20-year-old male suspect. Both he and the girl were known to authorities for possible radical ties, reports the Guardian.
"The initial indications are that an imminent attack on French soil has been thwarted," Interior Minister Bruno Le Roux, said Friday. French media reported that the group had planned to use explosive belts to target a tourist site, though officials have not publicly confirmed. The chemicals found in their apartment were similar to those used in bombs detonated in the Paris rampage in November 2015, and in the March 2016 attack in Brussels, reports CBS News.
The foiled plot comes about a week after man wielding a machete attempted an attack on a solider near the Louvre in Paris. The assailant — who appears to have ISIS sympathies, if not direct ties — was shot five times; the soldier escaped with a few minor cuts. The suspect, identified as 29-year-old Egyptian national Abdallah El-Hamahmy, told authorities he had planned to deface the museum's artwork (he reportedly also had spray paint in his backpack) because he considered it a "symbolic" attack on France.