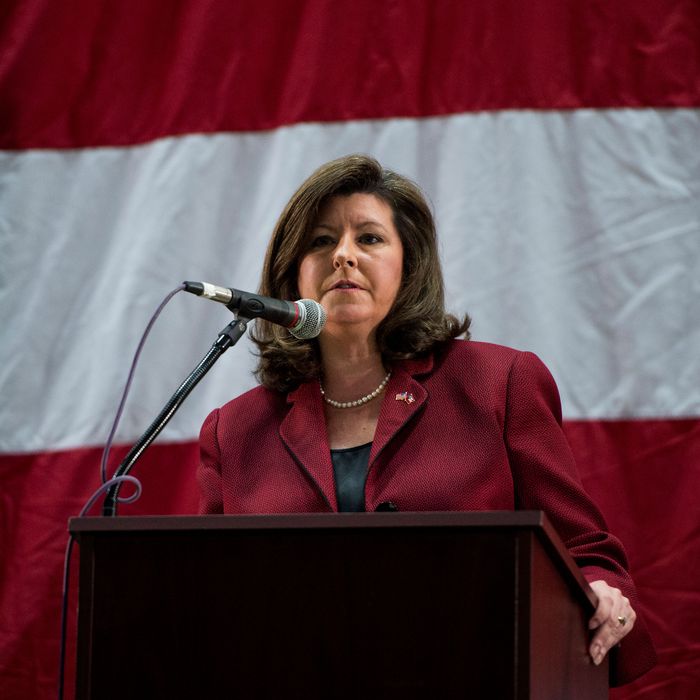 Veteran Republican pol and anti-abortion icon Karen Handel is the early front-runner.
Photo: Bill Clark/CQ-Roll Call,Inc.
The odds are high that the first congressional contest of the Trump era will occur in Georgia on April 18, when a special election will be held to choose a successor for HHS Secretary Tom Price, who represented Atlanta's suburban sixth district in the House for 12 years. Despite its strong Republican history (it was represented in the 1990s by Newt Gingrich, and Price never won less than 60 percent there), the sixth is one of those districts Democrats think they can pick off because it's packed with college-educated voters who hold Donald Trump in minimum high regard. Indeed, Trump only carried the sixth by one percent last November.
But as a large field assembles for the special election (a "jungle primary" in which the top two finishers regardless of party will proceed to a runoff, except in the unlikely event someone wins a majority the first time around), the early front-runner is a Republican with a strong local and national profile: former Georgia secretary of state Karen Handel. Nationally, Handel is best known as the former Susan G. Komen For the Cure executive who engineered a ban on funding for Planned Parenthood in 2012. The action was reversed and Handel resigned, becoming an instant icon of the anti-abortion movement (she quickly produced a book on her martyrdom entitled Planned Bullyhood).
Back home, Handel has been an intermittently successful pol, chairing the Fulton County Commission (one of the counties in the sixth) and being elected secretary of state in 2006, before narrowly losing a gubernatorial runoff to Nathan Deal in 2010 (ironically, hostility to her from anti-abortion hardliners was a factor) and then finishing a close third in the U.S. Senate primary in 2014. In all her races, north metro Atlanta was her electoral base. A very early poll of the sixth taken in December after Price was nominated by Trump showed Handel with far more support than any other named prospect, though over half the respondents were undecided.
Handel has ten Republican rivals (qualifying ended today), though she dodged a bullet when the HHS secretary's wife, state representative Betty Price, decided against a run. Two formidable former state senators are in the race: Judson Hill, who will likely do well as a rare candidate from the Cobb County portion of the district, and Dan Moody, who is close to U.S. Senator David Perdue and his cousin, former governor (and Trump Agriculture secretary nominee) Sonny Perdue. Moody has personal wealth and at least an indirect claim to the support of Trump loyalists via the Perdues. But other candidates are signing up Trump activists quickly, and one, Bruce LeVell, is a bit of a Trump apprentice, having headed up the mogul's "diversity coalition" during the 2016 campaign.
For Democrats, everything depends on making the almost-certain runoff, and that means minimizing intraparty competition. The best known of five Democrats in the race is former state senator Ron Slotin, a longtime stalwart of Atlanta's Jewish community whose last run for office was an unsuccessful effort to topple the fiery anti-Zionist congresswoman Cynthia McKinney back in 1996. But there's a newcomer who has quickly emerged as the most viable Democrat in the race: 29-year-old former congressional staffer and "investigative filmmaker" Jon Ossoff. He's been phenomenally successful in online fundraising for the race, and has been endorsed by fifth-district representative John Lewis and fourth-district representative Hank Johnson.
The best hope for Ossoff or any other Democrat is to make the runoff and hope that the eventual Republican survivor is bloodied by internecine warfare. The biggest problem is that Democratic turnout in Georgia special elections — and really any sort of runoff — has been abysmal. That's likely why local political analysts do not seem remotely as bullish as their national counterparts on the donkey's odds of swiping the sixth.
Having said that, if the Trump administration's next two months are anything like its first, the prospect of an early "referendum on Trump" to smite the 45th president could generate enough money and other resources to break the mold, and enough attention to get Democrats to the polls who would otherwise never show up. But for right now, it's the GOP's race to lose.