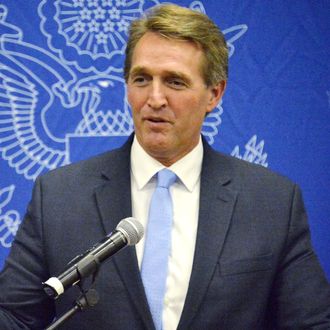 Photo: PEDRO PARDO/AFP/Getty Images
As though the internet wasn't bad enough already: Republican Senator Jeff Flake, of Arizona, told Politico this week that he intends to undo a recent FCC rule restricting what ISPs could do with customer data.
The rules, which were adopted in late October of last year, shortly before the election, require ISPs to specifically ask customers for permission to share sensitive information with third parties, including precise geolocation data, financial and health information, and browsing history. It also includes message content if those messages are readily accessible by the ISP — i.e., any unencrypted message. The FCC's rules also required opt-out mechanisms for sharing non-sensitive information.
ISPs oppose the new rules — which went into effect at the start of this year — because they block an avenue through which they can monetize user data. Web-browsing habits and personal information are highly useful for targeting advertisements to certain people and demographics. They also ignore (unfairly, if you were to ask ISPs) the edge providers like Google and Facebook have, as both companies have built immense businesses off of targeting user data.
Flake has reportedly lined up at least a dozen colleagues to help undo the rule under the Congressional Review Act, which allows Congress to roll back federal-agency regulations by a simple majority vote. Of course, Flake might not even need to invoke the CRA if Ajit Pai's FCC rolls back the regulation itself. ISPs lobbied last month to get the commission to do so. In October, Pai objected to the adoption of the rules, arguing that "if the FCC truly believes that these new rules are necessary to protect consumer privacy, then the government now must move forward to ensure uniform regulation of all companies in the Internet ecosystem at the new baseline the FCC has set." That's a fair argument — Google and Facebook should be subject to the same or similar rules as ISPs when it comes to gathering user data — but rolling back privacy protections until a more universally applicable set of rules are in place seems like moving in exactly the wrong direction.
To put it bluntly: This proposed rule change is, like many of the Trump-era FCC's recent decisions, extremely bad. It is terrible for consumers and only benefits big businesses by allowing them to keep and sell records of what people do online. Rolling back the rules allow ISPs to sell a granular breakdown of your daily activity (assuming you spend most of the day on a computer or smartphone) to whomever is willing to pay. If Flake and Pai are serious about protecting user data, they'll take these rules and apply them to Facebook, Google, and other platform-advertising giants — rather than eliminate them entirely in a blinkered attempt to level the corporate-behemoth playing field.