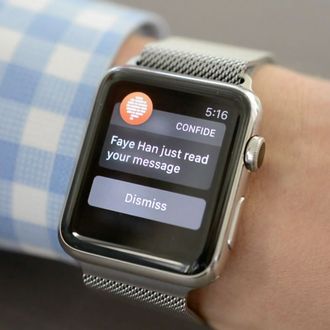 Leak-fearing politicians apparently love Confide.
Photo: Confide
The White House's top cybersecurity employee, Cory Louie, was reportedly forced to resign this week, according to The Atlantic's Steve Clemons, as part of the Trump administration's purge of Obama hires. Louie, who served as the White House's chief information security officer, was the guy in charge of making sure that the president and his advisers don't get hacked. It does't sound like a … smooth departure, per ZDNet:
However, one source said it's because the remaining staff have "targets on their back" and are afraid of speaking out, calling the actions a "witch hunt" for former Obama appointees. Accusations of poor management were said to be reasons or excuses for his forced departure amid what was described as a "toxic" working environment.
Louie's specific job obligations were unspecified, but he was the person tasked with writing memos about security topics, such as how Obama could avoid getting hacked during his visit to Cuba last year. It's unclear if anyone has replaced him, and the White House did not comment on the matter.
Trump reportedly still has not parted with his old, unsecured Android phone, despite being issued a new phone by the Secret Service.
If that news isn't encouraging, then you'll be very pleased to know that, according to Axios, Republican politicians are using an encrypted-messaging app called Confide to share confidential missives. Axios's sources described the app's Snapchat-like, vanishing-messages feature, and the inability to easily take screenshots, as part of the near-leakproof appeal. Messages can only be read piecemeal by tracing them with your finger.
This is great, if your top concern is intra-government messages being hacked by nefarious third parties. If your top concern, on the other hand, is government transparency, well: Confide is not an approved communication method for conducting official government business, meaning that anyone using it to do so is violating the public-records guidelines.