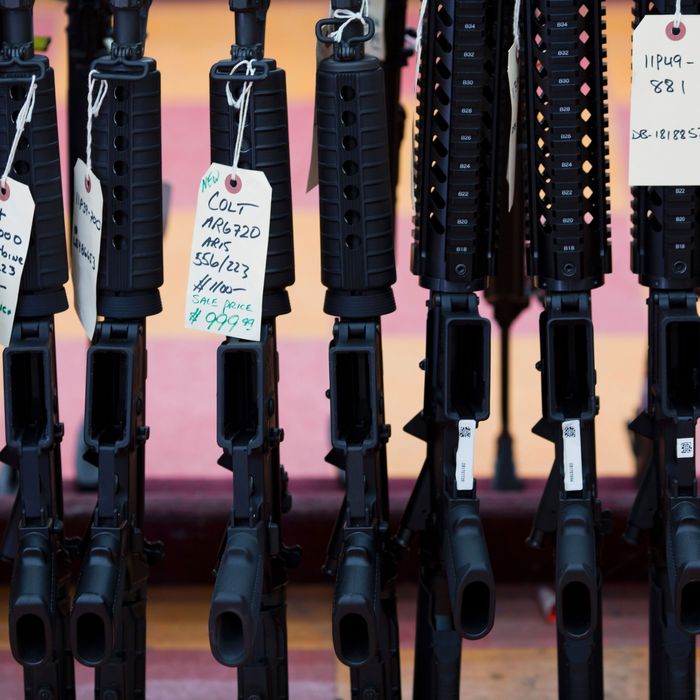 Photo: Dominick Reuter/AFP/Getty Images
House Republicans voted Thursday to gut an Obama administration gun-control regulation that would have helped prevent some mentally ill people from purchasing firearms. The rule, which the NRA opposed and the House struck down 235–180, would have applied to people who receive Social Security disability or Supplemental Security Income (SSI) benefits and are unable to manage their own finances because of a documented mental illness, including schizophrenia or bipolar disorder. It would have covered about 75,000 people, reports USA Today.
Under the rule, which was finalized in the last days of the Obama administration and now will no longer be, the Social Security Administration would have reported these particular individuals to the FBI, so their names would have come up in a background check if someone tried to purchase a firearm. The SSA would also notify those potentially affected by the rule, and implement a system so people could appeal their placements on the background-check list, if necessary. Second Amendment and some disability advocates opposed the rule, calling it discriminatory and a violation of due process. Those in favor argued that if someone is unable to work or manage his or her affairs because of a severe mental illness, perhaps he or she should not easily be able to purchase a firearm.
Congress is knocking down these and other regulations put in place in the last six months of Obama's tenure under the authority of the Congressional Review Act. Under this law, the Senate only needs a simple majority to strip away a rule, so Democratic support isn't necessary to tear away these and other policies. And Congress sure is in a hurry to do just that: The House also plans to carve away a Labor Department rule that would have required federal contractors to report actual and alleged labor violations dating back three years and a rule to protect streams from coal-mining debris, among others.