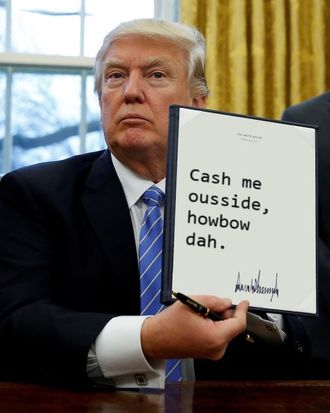 Donald Trump has been president for nearly two weeks now, but it seems nobody has bothered to stop and teach him about what happens when famous people hold up signs … or in his case, a never-ending string of executive orders, proclamations, and presidential memoranda. A celebrity holding up an easily edited object is like catnip for anybody with Photoshop, so each time Trump slaps his John Hancock on a document and poses with it for a photo he's pretty much asking to become an internet gag.
Now, thanks to some coding from Isaac Hepworth, a product manager at Google, it's easy for you to force Donald Trump — at least in photo form — to sign any executive order you'd like. Here's how to make your own.
Step One: Head here. You'll see the picture of Trump, with instructions on how to use the generator. This is where you'll type your text.
Step Two: Follow the directions and do your worst: "Click me. Edit me. Make me horrifying." Be sure to delete the pre-typed instructions so they won't be in your finished product.
Step Three: Adjust the font size. To do this, type a single apostrophe and a < if you want to make the font smaller or a single apostrophe and a > to make it larger. Once you've found your optimal size, your can delete the errant apostrophes.
Step Four: Screenshot and share with your pals on your social platform of choice.