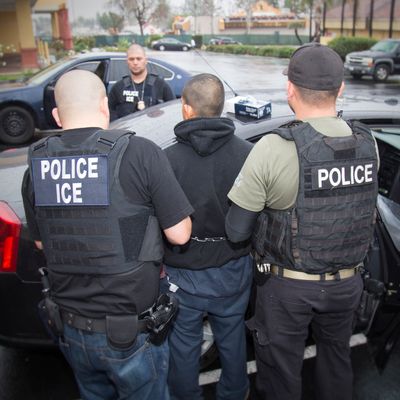 ICE-released image of agents arresting an individual in Los Angeles on Tuesday.
Photo: Charles Reed/U.S. Immigration and Customs Enforcement via AP
Federal agents have conducted their first large-scale operation targeting undocumented immigrants since President Trump's executive-ordered crackdown in late January. Between Monday and Friday, authorities raided homes and workplaces in multiple states arresting hundreds of undocumented immigrants, and reports of the daytime raids, particularly on social media, have rattled immigrant communities throughout the country. Department of Homeland Security spokesperson Gillian Christensen told the Washington Post that the immigrants targeted in the "routine" raids across six states were mostly criminals, but immigration activists allege that the operation was larger in scope than the government claims, including at least four additional states, and that agents have also captured people without criminal records.
Immigration lawyers, activists, and Democratic lawmakers say they are hearing reports that Immigration and Customs Enforcement agents have been setting up checkpoints, conducting random sweeps, and in at least one purported instance, going door to door in a Hispanic community in Atlanta and asking for people's papers. These stories are mostly unconfirmed, and ICE officials strongly deny such claims, announcing in a statement that "the rash of recent reports about purported ICE checkpoints and random sweeps are false, dangerous and irresponsible." (It's worth noting that over the past few weeks, there have also been at least some reports of anti-immigrant checkpoints that have turned out to be hoaxes.) ICE also says the raids had been planned before the Trump administration released its executive orders.
The DHS has confirmed that raids — or "targeted enforcement actions" as ICE prefers to call them — have taken place in New York City, Atlanta, Chicago, and the Los Angeles metro area, as well as in North and South Carolina. Other reports from the media and from the immigration-activist community indicate that raids have also been conducted in Texas, Florida, Kansas, and Northern Virginia. In Texas, the Mexican consulate in Austin said on Friday that 44 people had been detained by federal authorities in the state over two days. The circumstances surrounding those detentions are not clear. In Los Angeles, ICE announced on Friday that 160 foreign nationals had been arrested over the five-day period and that 150 of them had criminal histories, five had final orders of removal or had been previously deported, and 37 had already been deported. An ICE official in Atlanta reported 200 arrests across Georgia and the Carolinas. The total national number of immigrants detained in the raids remains unknown, and the government won't report that total until Monday, but it does seem clear that the vast majority were adult men.
It's not clear if or when ICE has conducted a coordinated, several-day, multi-state "enforcement surge" of this scale before, but there have been comparable single-state efforts targeting criminal aliens in the past, like a four-day operation in Los Angeles that led to the arrests of 112 foreign nationals back in July. For a larger context, ICE reported a total of 65,332 interior removals in the 2016 fiscal year, which is the number of foreign nationals apprehended by ICE officers someplace other than near the U.S. border.
News of this week's raids, which followed the controversial arrest and deportation to Mexico of a 35-year-old mother of two on Wednesday, has already led to organized protests on Thursday and Friday night in Los Angeles and on Friday night in New York:
Meanwhile, immigration lawyers, activists, and other aligned organizations have been working to inform anxious immigrants of their rights should they encounter ICE agents. The Mexican government has also issued a blanket warning to all its citizens in the U.S. noting that they face a "new reality" and should "take precautions" including staying informed with the latest news and getting in touch with their nearest Mexican consulate, "in the face of more severe application of migration controls" by the U.S.
Immigrants with high-level criminal backgrounds were already prioritized for deportation under the Obama administration, which deported dramatically higher numbers of immigrants than any previous president. Late last month, President Trump signed an executive order expanding the classifications for prioritized deportation to such a point that every undocumented immigrant in the country could be targeted.
According to the American Immigration Lawyers Association, this week's raids were allegedly targeting (via ICE's already-underway Operation Crosscheck program):
1. Fugitives — Anyone with an outstanding order of removal [ICE statistics indicate that this refers to some 960,000 people];
2. Individuals who reentered after they were deported. No need for criminal conviction related to reentry to be targeted;
3. At large "criminal aliens" — Anyone with any criminal conviction.
They add that:
It also appears that other individuals who are identified in the course of an Operation Crosscheck action against a specific person may also be picked up if they fall within the broader enforcement priorities outlined in the Executive Order. Note that the new priorities are so broad that any undocumented individual could be deemed a priority. […] Though enforcement priorities outlined in President Trump's Executive Order on interior enforcement include anyone who was charged with an offense or committed an act that could be a chargeable offense, we understand that the current operation is focused on those who were convicted. However, any conviction (felonies, DUIs, non-violent offenses, etc.) could subject a person to enforcement.
Thus far, government officials have not acknowledged any connection between the surge of raids and Trump's executive order, but a DHS official has confirmed to the Post that, in accordance with Trump's order, agents were also capturing undocumented immigrants in the vicinity of those they had originally targeted. Speaking for himself, President Trump seemed to approvingly reference the raids Sunday morning on Twitter:
Regardless, it seems clear that ICE is definitely expecting to go after the expanded categories of undocumented immigrants in the future, even if that's not what they were doing this past week, and one immigration official told the Post that big cities were going to "target-rich environments" because of their large populations of undocumented immigrants. Pew says that 61 percent of the estimated 11.1 million undocumented immigrants living in the U.S. reside across just 20 major metropolitan areas. Many of those cities have promised not to work with federal authorities to target, detain, and deport those residents, and Trump has signed an executive order going after those cities' federal funding as well.
It's also possible, as NBC News points out, that ICE could have helped tamp down the resulting hysteria within immigrant communities by being more transparent about their actions. Along those lines, leaders of the Congressional Hispanic Caucus have now sent a letter to the acting director of ICE, asking for a meeting and for clarification as to how ICE policy has or will change with respect to Trump's order. "These raids have struck fear in the hearts of the immigrant community as many fear that President Trump's promised 'deportation force' is now in full-swing," the letter warns. They also want more detail on exactly who was targeted and detained in the raids, asking for the "location of the raids, the number of individuals detained and deported, the number of parents of minor children that were apprehended, the reason for the apprehension as well as the number of people apprehended with criminal convictions and the types of criminal convictions."
Trump has repeatedly promised to deport the as many as 3 million undocumented immigrants with criminal backgrounds that he says are currently living in the U.S., but the actual actionable number could be as a low as 690,000. What happens to the other 9-million-plus undocumented immigrants under Trump's new policy, or measures he has yet to order, remains to be seen.