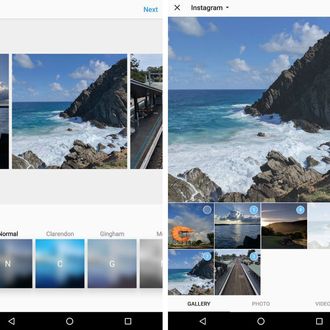 For a while now, advertisers on Instagram have had the ability to load multiple images into a carousel that users can swipe through horizontally. Now it appears that the feature will be coming to individual users sometime in the foreseeable future.
Droid Life reports that the feature is being tested on Android. They write:
To give you the basic rundown, once this feature works properly, users can select up to 10 photos from their galley, slap on filters to each photo they choose, then upload the photos as an album to your timeline. From your followers' perspective, they will see the album and can then slide through the various shots, liking photos as they go.
It was also spotted by Twitter user Philip Chang.
The feature is currently only being tested on Android, and Instagram declined to comment to the Verge on if, or more likely when, the feature will become more widely available.