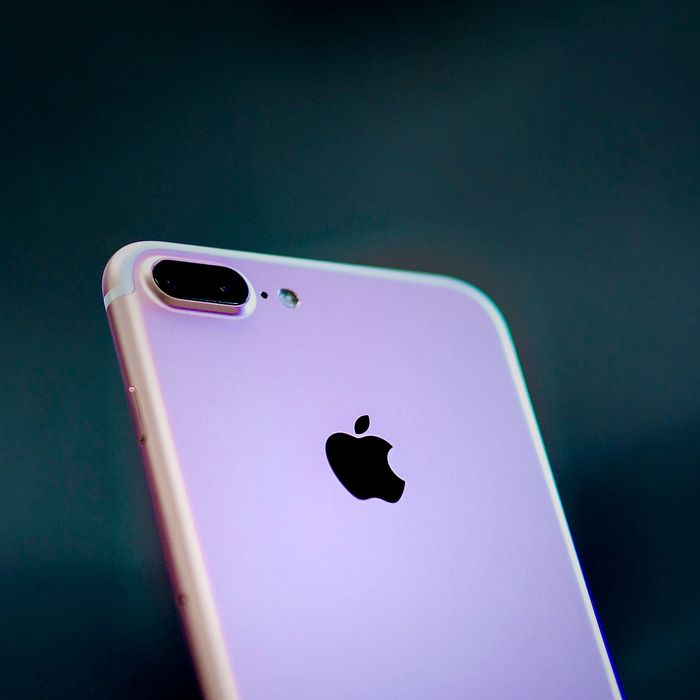 Is this the new iPhone? (No, it's just the current iPhone 7 Plus with some kinda spooky lighting.)
Photo: Gonzalo Arroyo Moreno/Getty Images
The next iteration of the iPhone is still shrouded in mystery, but there's some general agreement about what dedicated Apple fans can expect to be announced this fall: Two upgrades to the current models — an iPhone 7s and an iPhone 7s Plus — and a new tier of premium phone, the bezel-free, nearly-all-screen iPhone 8 (or, possibly, iPhone X). So, what can we expect beyond that?
First, it seems very possible that Apple is planning to roll out wireless charging with its newest phone. This weekend, the company became officially listed as a member of the Wireless Power Consortium, a group that sets standards for using the Qi inductive-charging system sans a charging cable. (If you own an Apple Watch, you're already using inductive charging to power your watch back up.) Inductive charging has been available for plenty of Android phones for a few years now, but doesn't seem to be something most users care about. If the rumor is true, it'll be interesting to see how much this is a selling point for iPhone users — wireless charging is great for bedside or desktop use, not so much for on-the-go charging.
Second, MacRumors has information from KGI's usually very reliable analyst Ming-Chi Kuo, who outlines a bit more about the iPhone 8. Per Kuo, the iPhone 8 will actually be smaller than the iPhone 7 Plus, coming in at the same size as the iPhone 7, 4.7 inches. But it will also pack a much more powerful battery, roughly comparable to the 2,700mAH battery the current iPhone 7 Plus uses. The smaller size can probably be explained by the rumor that Apple plans to expand the actual screen size by removing the bezels on the iPhone 8 — if you don't need the top and bottom bezels eating up space, you can have a lot more screen display in a smaller physical form factor. More interesting is that this larger battery, combined with an OLED screen, could mean a much longer battery life. OLED screens can be more energy-efficient overall because they only need to power individual pixels that need to be lit up, unlike LCD smartphone screens which require a full-panel backlight.
So, how much will this sleek phone cost you? Fast Company's Mark Sullivan claims that "a source with knowledge of Apple's plans" is indicating the phone could cost over $1,000. After all, Sullivan points out, the most expensive iPhone on the market, the 256 GB iPhone 7 Plus, retails for $969. And that phone doesn't have an OLED screen, wireless charging, or whatever new features Apple will end up unveiling.
I'm personally a little skeptical of this; OLED screens are difficult to source, but if there's something Apple is good at, it's establishing supply chains and economies of scale that work out in its favor. (For instance, news broke today that Apple and Samsung Display have struck a deal for Samsung Display to provide a total of 160 million OLED displays.) There's no doubt that the top-of-the-line iPhone will end up costing you a bit, but if I were going to wager on a price, I'd look to what Samsung was attempting to charge for the Galaxy Note 7 before it started going boom: something in the area of $850 to $899. People love iPhones, but Apple likely understands there's a certain psychological barrier that would kick in when asking customers to cough up four figures for a smartphone, no matter how pretty, long-lasting, or life-changing it may be.
One way to make sure it stays under that price point? Japanese site Mac Otakara says the next generation of iPhones won't include a 3.5mm-to-Lightning dongle in the box. Hope you're ready for that brave new wireless world.