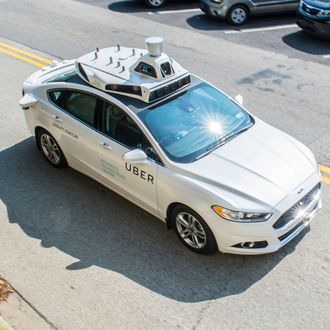 Uber and Pittsburgh have always had a somewhat fraught relationship. Two years ago, the company poached nearly a third of Carnegie Mellon's robotics experts in order to build a division for researching self-driving cars; as a kind of consolation prize, Uber decided to use Pittsburgh as its testing ground for the new systems, which began roving Steel City's streets last year. In May, Democratic Mayor Bill Peduto called the company's Advanced Technologies Center, "where some of the world's leading innovators are helping to shape the future of transportation," expecting the partnership to bring "increased road safety, less congestion, and more efficient and smarter cities."
The arrangement seems to be souring, however, as Uber continues to use its standard tactics of strong-arming local governments to get what it wants, and leaving them holding the bag. The city's Post-Gazette reported last week that Peduto was not happy with Uber CEO Travis Kalanick's position on Trump's advisory council.
"We've held up our end [of] the bargain," Mr. Peduto said, referring to the city's cooperation with the company, "but we haven't seen much from Uber. This is a two-way street, not a one-way. I need to see more interest from them in our communities, both locally and internationally."
Uber's arrangement with Pittsburgh happened in part because the city believed that allowing Uber to help them modernize transportation would help them win federal funding, the Department of Transportation's 2016 Smart City Challenge. Instead, according to Quartz, Uber turned around and demanded "access to bus lanes, designated pick-up and drop-off spots for self-driving cars, and 'prioritization of snow removal' on self-driving car routes."
Uber's involvement in city transport was supposed to be of partnering with private industry to improve public transportation offerings, especially for underserved communities like the elderly and the disabled. So far, Pittsburgh apparently has little to show for it. Much like those angered during the #deleteUber campaign, Pittsburgh's leadership is realizing that it no longer has to put up with whatever Uber wants.