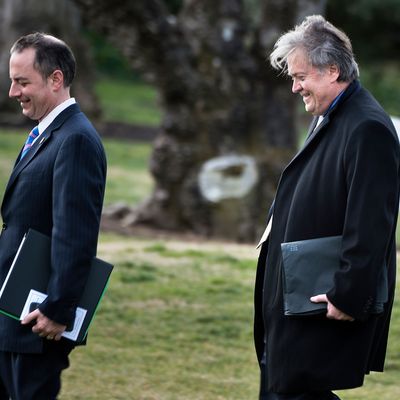 The joint appearance of chief of staff Reince Priebus and White House commissar Stephen Bannon at CPAC illustrates the new partnership in charge of conservatism and the GOP.
Photo: Brendan Smialowski/AFP/Getty Images
For those who first learned of the venerable annual Beltway conference of the American Conservative Union, known as CPAC, during the Obama administration, the event is mainly an obligatory stop on the presidential campaign trail for Republicans and a sort of family reunion for the conservative movement. But the many dimensions of this well-attended event were nicely summarized by NPR this week:
CPAC is equal parts political rally, conservative boot camp, recruiting tool, trade show and merchandise mart, Beltway celebrity watch party, and this year — with GOP control in the White House and Congress – a celebration.
The chief celebrant will, of course, be the president of the United States, Donald Trump, who welcomes every chance to display his political success and bask in the adulation of people who very likely viewed him as a sideshow act during his previous appearances at CPAC in 2011, 2013, and 2015. This year's CPAC caps the remarkable process whereby this heretic not only became acceptable to conservatives during the course of the 2016 campaign, but is rapidly placing his stamp on conservatism as we know it —in the past a durable ideology that transcended constant arguments over strategy and tactics. It is safe to say that a lot, perhaps a majority, of those who will hear Trump speak Friday morning could not have imagined the scene just two years ago. So the question that will come up again and again at CPAC is whether Trump is adjusting himself to conservatism now that he leads America's conservative party, or whether conservatism is fundamentally changing to accommodate his power and voter appeal.
Luckily for Trump, CPAC is occurring before any major rifts have opened up between his nascent administration and the Republican leadership of Congress. So the mood is likely to be upbeat, with various factions on the right all seeing what they want to see in the road just ahead. Don't let the brouhaha over Milo Yiannopoulos's scheduled and then canceled appearance fool you, though: The furor he aroused among conservatives was more about issues relating to his provocative treatment of his own gay sexuality (very recently CPAC was roiled by arguments as to whether pro-gay-rights conservative groups were even welcome as paying sponsors of the event) than about his role as a legitimizer of the seedier side of the alt-right. Yes, an ACU board member is scheduled to assail the alt-right in a speech Thursday morning. But that may be part of a process to limn the limits within which Trumpian nationalism will be fully embraced.
And embraced it most definitely will be. The Washington Post's veteran conservative watchers Robert Costa and David Weigel:
This year's CPAC schedule represents a marked shift toward Trump's politics and penchant for showmanship. Nigel Farage, the pro-Brexit politician from Britain who spoke to an emptying room in 2015, will speak the same morning as Trump. Reality TV star Dog the Bounty Hunter will appear with a super PAC trying to draft Milwaukee County Sheriff David Clarke, a regular Trump supporter on the cable news circuit, into Wisconsin's 2018 Senate race.

"There used to be Pat Buchanan's people, the populist ­revolt-types and the establishment of the anti-establishment, who'd get a third of the vote in the primaries and we'd beat them back," said Mike Murphy, a veteran Republican consultant who led a super PAC that supported former Florida governor Jeb Bush's presidential campaign. "Now they've hijacked the Republican Party."
Murphy is the rare bitter-end #NeverTrump conservative who is still speaking out against the new regime. The vast majority of former Jeb Bush, Marco Rubio, Ted Cruz, and John Kasich supporters who are going along with Trump, with or without private misgivings, are probably more likely to think CPAC is seducing Trump rather than succumbing to his sinister blandishments. But it is hard to deny the different tone of this particular CPAC. I count eight separate appearances by Brietbart writers on the agenda. The very first speaker when the full event begins tomorrow is Kellyanne Conway. Later that day Stephen Bannon and Reince Priebus will appear together. As Costa and Weigel explain, the symbolism of that appearance is not lost on anyone:
By sitting with Priebus, the former chairman of the Republican National Committee, Bannon aims to showcase how the party guard and formerly obscure players on the right are in power and working together to enact a new kind of conservative agenda, the official said, one that is directed at reaching working-class voters who are disillusioned with the global economy and elites.
The new crowd at CPAC will displace certain once-prominent members of the old crowd. From 2007 through 2015, the CPAC presidential straw poll was won four times by Mitt Romney, twice by Ron Paul, and three times by Rand Paul. Romney and the Pauls will be nowhere in sight at this CPAC. That may help answer the underlying question of (to borrow Aretha Franklin's phrase) who's zooming who in the relationship between conservatism and Team Trump.