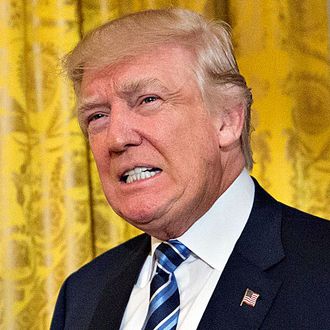 Donald Trump is being immortalized in marble in a small Italian village in Tuscany. Some American and Italian private donors with money to burn have raised about $100,000 to help erect a statue of the barely three-week-old American president in the town of Vagli di Sotto's very real Park of Honor and Dishonor.
"Initially the work will be put in the center of the park: it's for history to decide whether Trump merits honor or dishonor," the town's mayor Mario Puglia said. Trump will keep company with some "winners" — a French police dog killed in a raid after the Paris terror attacks in 2015 — and some "haters and losers," including the captain of the Costa Concordia, who abandoned the cruise ship as it sunk off the coast of Italy in 2012, and who was sculpted with bunny ears.
Puglia said that he hopes the Trump figure attracts tourists, and shows off the town's "most beautiful marble in the world." He added that though he assumed the American president would be busy, he wanted to invite him to the unveiling. So the statue will, presumably, be clothed.