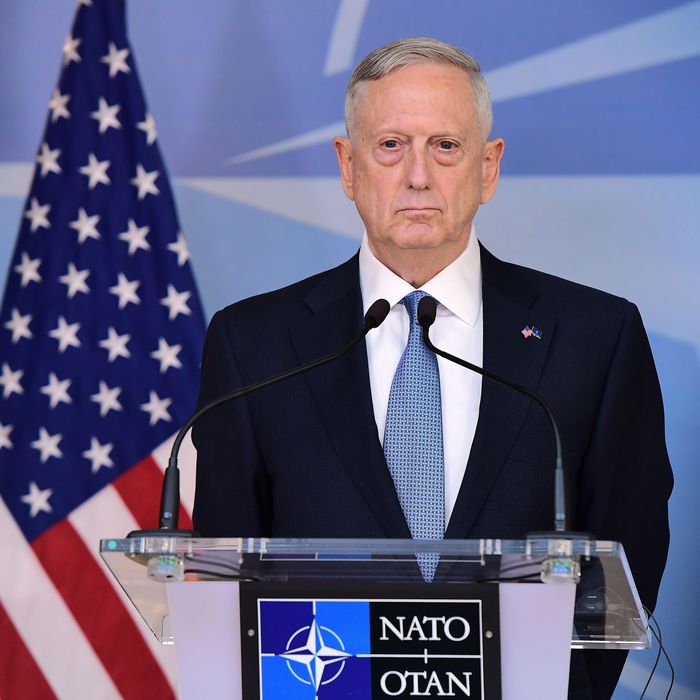 Mad "Mad Dog."
Photo: Emmanuel Dunand/AFP/Getty Images
Defense Secretary James Mattis told his counterparts from 27 other NATO nations Wednesday to increase defense spending by the end of the year or the United States will "moderate its commitment" to the alliance.
"No longer can the American taxpayer carry a disproportionate share of the defense of Western values," he said at his first NATO defense ministers meeting in Brussels. "Americans cannot care more for your children's future security than you do."
The warning echoed remarks that President Trump has continually made about NATO nations not paying their fair share. "We are getting ripped off by every country in NATO, where they pay virtually nothing, most of them. And we're paying the majority of the costs," he said last March. But while Trump has called NATO "obsolete," Mattis praised the alliance as "a fundamental bedrock for the United States and for all the trans-Atlantic community."
In further contrast with his boss, Mattis also called Russia out by name, chiding the nation for "using force to alter the borders of one of its sovereign neighbors."
The calls for NATO members to increase their defense spending are not new. President Obama's Defense Secretaries, Robert Gates, Chuck Hagel, and Ash Carter, all pushed for more spending to strengthen NATO. Still, Mattis's threat that the U.S. may back away from its commitment if allies don't pony up by a set date appears to go further than his predecessors ever did.