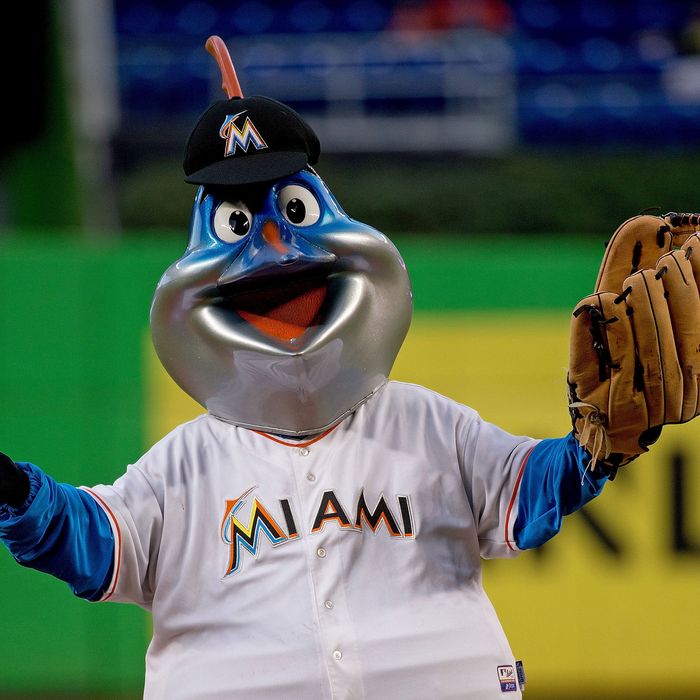 The creepiest mascot in baseball.
Photo: Rob Foldy/Getty Images
The family of White House adviser and Donald Trump son-in-law Jared Kushner is in negotiations to buy the Miami Marlins after pursuing a purchase of the woefully mismanaged franchise for months, according to multiple reports that suggest the price is as high as $1.6 billion.
Both Charles Kushner, father of Jared and an ex-con, and Joshua Kushner, brother of Jared and a venture capitalist, are reportedly involved in the deal. Forbes says Marlins owner Jeffrey Loria, who bought the team for $158 million in 2002, has a "handshake agreement" in place to sell the team.
If it is the Kushner family that has made this handshake deal, there will be much to finalize before it's made official. For starters, the buyer is not liquid, Forbes says, and would therefore need to take on mounds of debt to finance the reported $1.6 billion purchase price. Major League Baseball doesn't typically take kindly to owners who have to go deep into debt to get in the door. The league may also balk at Charles Kushner, a convicted criminal who once hired a prostitute to sleep with his brother-in-law and then sent tape of the encounter to his sister, to join the gilded ranks of its owners.
But as unsavory as the new owners may be, with a criminal past and White House connections that could lead to a fan boycott, MLB may be willing to take anyone over Loria, who destroyed the Montreal Expos, ripped off taxpayers to build a new stadium, and sued fans, all while continuing to field a losing team.