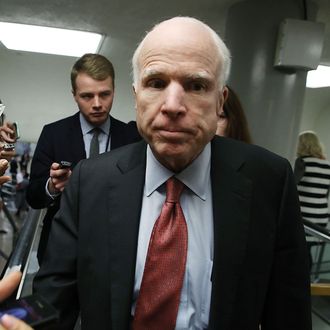 Annoyed.
Photo: Mark Wilson/Getty Images
Senator John McCain attempted to make amends Thursday for President Trump's bizarre phone call with Australian prime minister Malcolm Turnbull. The senator reached out to Joe Hockey, Australia's ambassador to the U.S., and expressed his "unwavering support for the U.S.-Australia alliance," McCain said in a statement.
"I asked Ambassador Hockey to convey to the people of Australia that their American brothers and sisters value our historic alliance, honor the sacrifice of the Australians who have served and are serving by our side, and remain committed to the safer, freer, and better world that Australia does far more than its fair share to protect and promote," the statement says.
McCain also spoke to reporters Thursday and called the dustup over the Trump–Turnbull phone call "an unnecessary and frankly harmful" dispute.
At the White House Thursday, the president spoke briefly about the phone call, which reportedly fell apart when Turnbull attempted to confirm a deal struck with the Obama administration to transport 1,250 refugees from an Australian detention center to the U.S.
Trump's tone in today's comments make it clear that he was annoyed with Turnbull Saturday and his lashing out was likely not a mistake. But that didn't stop one White House source from offering a different excuse to CNN for why Trump snapped. After a long day of diplomacy, the source told CNN, Trump was getting sleepy.