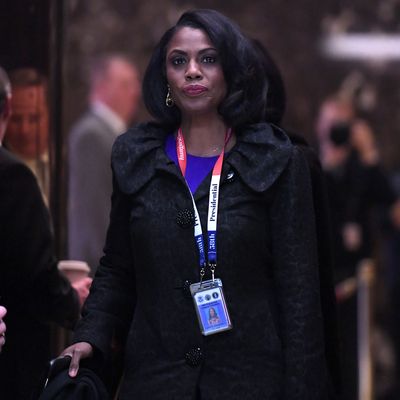 Omarosa Manigault in Trump Tower on January 16, 2017.
Photo: BEHAR ANTHONY /SIPA USA/Bloomberg via Getty Images
Somehow Gateway Pundit bloggers showing off their new White House press credentials in a tweet featuring a Pepe the Frog emoji was not the most troubling report about the White House press corps on Monday. A reporter claims that during an argument just outside the Oval Office last week, Omarosa Manigault, Apprentice star turned White House communications official, "physically intimidated" her. She said Manigault also told her that the Trump administration has collected "dossiers" of negative information on her and several other journalists.
According to the Washington Post, the exchange between Manigualt and April Ryan, American Urban Radio Networks' White House correspondent, took place outside White House Press Secretary Sean Spicer's office. "She stood right in my face like she was going to hit me," Ryan told the paper. "I said, 'You better back up.' … She thought I would be bullied. I won't be."
Post reporter Abby Phillip was one of several people who witnessed the incident. Phillip said she didn't hear every word, but Ryan told her afterward that she felt Manigault's behavior was "Secret Serviceable," meaning it warranted intervention by law enforcement.
Ryan also said that during the encounter Manigault told her she was one of several African-American journalists whom the White House is keeping dossiers on. "I said, 'Good for you, good for you, good for you,'" Ryan said.
When asked to comment on the report, Manigault told the Post via email, "My comment: Fake news!"
Ryan used to be so close with Manigault that the former reality star had asked her to be in her wedding party. However, their relationship soured last fall when Manigault sent her a link to a report from the Intercept and fretted, "This story suggests that as a reporter, you are (or were) a paid Clinton surrogate," adding, "I pray this is not true! This could be hurtful to your legacy and the integrity of your work." The story used hacked emails to show how the Clinton campaign tried to elicit favorable press coverage, but it did not say the Clinton team paid journalists.
Manigault's alleged reference to dossiers on journalists is new, but during the campaign she said of Never Trump Republicans, "Trump has a long memory and we're keeping a list."
It's been nearly a year since Breitbart reporter Michelle Fields accused Trump campaign manager Corey Lewandowski of physically assaulting her. Authorities decided not to pursue battery charges against Lewandowski, citing lack of evidence. Breitbart chairman Stephen Bannon, who sided with the Trump team over Fields, is now White House chief strategist.