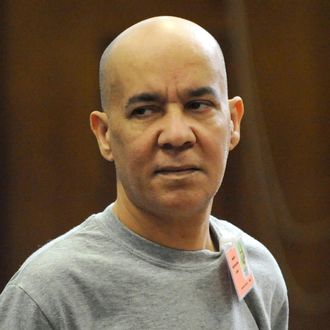 Pedro Hernandez.
Photo: Louis Lanzano/AP
On May 25, 1979, 6-year-old Etan Patz disappeared from his Soho neighborhood on his way to the school-bus stop, his first time walking the few blocks alone. His story transformed how the country approached missing kids — Patz's young face was one of the first to appear on milk cartons, and his vanishing is marked by National Missing Children's Day — but the case went unsolved for decades. Now, almost 40 years later, a suspect has been convicted of kidnapping and killing the young boy. A jury found 56-year-old Pedro Hernandez guilty after more than a week of deliberations in the fraught, four-month trial.
Hernandez was arrested in May 2012, after giving several videotaped confessions about how, as worker in a bodega, he lured Patz to the basement of a shop with a soda, and then choked the boy, putting his body in a plastic bag and a box, which he tossed in a garbage pile a few blocks away. Prosecutors had no physical evidence, and Patz's body was never found. Hernandez was first tried for murder in 2015, but after 18 days of deliberation, the jury could not reach a unanimous verdict, and the judge declared a mistrial.
Manhattan prosecutors decided to retry the case, which hinged — as the first one did — on those confessions. Defense attorneys argued that detectives, in grueling interviews, pressured Hernandez, who has no prior criminal record, to confess, and that his testimony was unreliable because of a low IQ and mental illness. His lawyers told DNAinfo they will appeal the jury's decision.