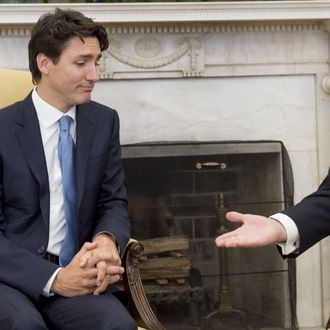 Photo: SAUL LOEB/AFP/Getty Images
Canadian prime minister Justin Trudeau and President Trump met today at the White House, where the two leaders were set to discuss trade, security, and women in the workplace. The day's events included a photo op in the Oval Office, during which Trump offered his hand to Trudeau for a shake. Trudeau took him up on the proffered hand, but not before a photographer could snap a meme-worthy image of Trudeau looking like he was making a mental pro/con list on whether or not to take Trump's hand.
Congrats to Trudeau for managing to avoid the half-a-minute-long handshake from hell that Japanese prime minister Shinzo Abe experienced last week in those same yellow Oval Office chairs. Ten points for Canada.