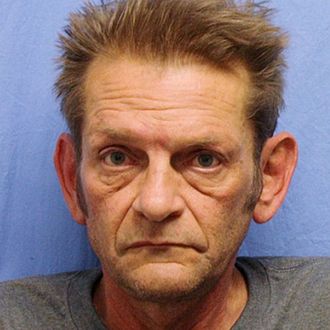 Adam Purinton.
Photo: Henry County Sheriff's Office
Srinivas Kuchibhotla, 32, and his friend Alok Madasani, also 32, stopped by a local bar to have a drink on Wednesday night in Olathe, Kansas, when a man approached and, according to witnesses, began shouting racist slurs at the pair, both from India and both engineers at the nearby Garmin factory. The 51-year-old man — identified as Adam Purinton — then allegedly yelled "get out of my country" before firing on the two men.
Kuchibhotla died from his wounds at the hospital, while Madasani was treated and released on Thursday. Another man, 24-year-old Ian Grillot, was also shot in the hand and chest after he tried to intervene and stop Purinton. "I was just doing what anyone should've done for another human being," Grillot said, from his hospital bed. "It's not about where he's from or his ethnicity. We're all humans. I just felt like I did what was naturally right to do."
Prosecutors have charged Purinton, a Navy veteran, with first-degree murder and two counts of first-degree attempted murder. He was apprehended early Thursday morning across state lines, in Clinton, Missouri, about five hours after the shooting. A bartender at an Applebee's called the cops after Purinton allegedly confessed to him that he'd shot two "Middle Eastern" men.
Federal law-enforcement officials, who are coordinating with local police, are investigating whether this was a "bias-motivated" crime, but have not yet classified the shooting as a hate crime.
Kuchibhotla and Madasani were both Indian nationals, and the shooting has put the Indian-American community on edge. The nervousness has reached India itself, heightening safety concerns under a Trump administration. Madasani's father, Madasani Jaganmohan Reddy, told the Deccan Chronicle, an Indian newspaper, "After this nightmarish incident, do we really need to go to work in the US?"
On Friday, White House Press Secretary Sean Spicer addressed the shooting, saying any loss of life is tragic, but that it was absurd to think President Trump's rhetoric or immigration stance had any link to the crime. He added that it was too early to speculate on Purinton's motive.