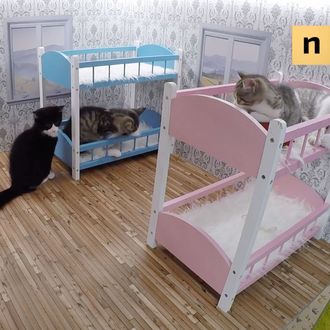 Some of the stars of the livestream.
If you're looking for a good way to kill 15 minutes (or several hours) online today, look no further than "Keeping Up With the Catdashians," a livestream featuring four kittens living in a tiny dollhouse, complete with tiny bunk beds. The stream is sponsored by the Icelandic Cat Protection Society, which describes it as "the cutest slow-TV on the Internet." (Note: The ICPS calls the kittens the "Catdashians" in English, but the "Kattarshians" in Icelandic.)
"Watch as the drama goes down in the purr-fect little house of kittens," the livestream site teases. Are you hooked? I'm hooked.
The kittens are siblings, and will be streamed for the next three to four weeks, at which point they will have, ideally, been adopted. After that, they'll be replaced by some more kittens in need of a home. The feed is continuous, except for the two or three times a day when the dollhouse is cleaned, and the kittens are fed and given some time to be around humans. While the livestream isn't as drama-laden as an actual episode of Keeping Up With the Kardashians — I've never watched a full episode, but I assume it isn't just an hour block of Kim & Co. napping — it's still a pretty good watch.