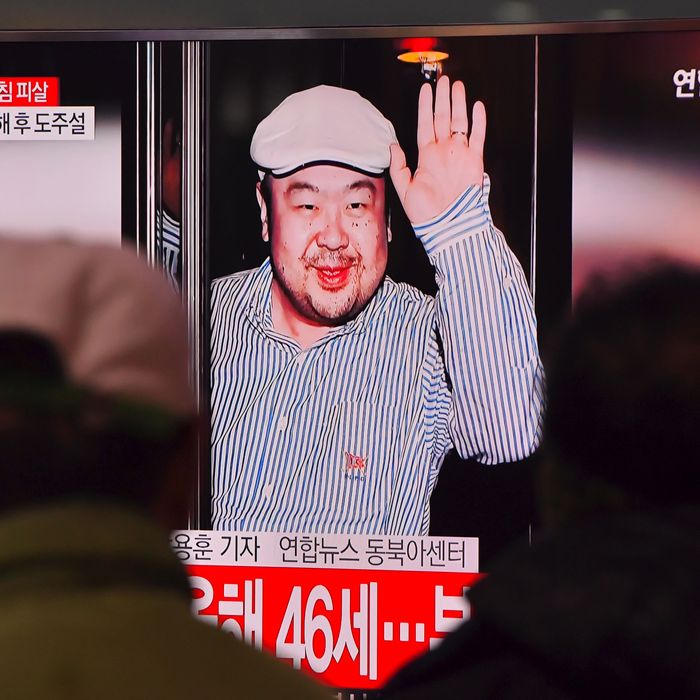 South Korean news reports on the death of Kim Jong-nam.
Photo: Jung Yeon-Je/AFP/Getty Images
Kim Jong-nam, the older half-brother of North Korean leader Kim Jong-un, was killed in a Malaysian airport Monday after he was sprayed in the face with an unknown liquid, police said Tuesday. The attack was carried out by two women who escaped the Kuala Lumpur airport by taxi after the attack, according to TV Chosun, a South Korean news channel.
"The deceased … felt like someone grabbed or held his face from behind," a police official told Reuters. "He felt dizzy, so he asked for help." Kim Jong-nam died in an ambulance on his way to a hospital.
The oldest son of Kim Jong-il, Kim Jong-nam was seen as the heir apparent in North Korea throughout the 1990s. But that reportedly changed after he was caught with a forged Dominican passport in 2001 as he was trying to sneak his way into Japan to attend Tokyo Disneyland. The subsequent fallout from that incident led to Kim Jong-un's grooming to take over for the Dear Leader.
Kim Jong-nam, meanwhile, moved to Macau and regularly traveled to China and Singapore, earning a reputation as a playboy. He spoke occasionally about the goings-on in his home country, and it was rarely positive. In a 2012 book, an author quoted an email exchange with Kim Jong-nam in which he said that his younger half-brother's "regime will not last long."
"Without reforms, North Korea will collapse, and when such changes take place, the regime will collapse," he wrote, according to Japanese journalist Yoji Gomi. "I think we will see valuable time lost as the regime sits idle fretting over whether it should pursue reforms or stick to the present political structure."
On Tuesday, Kim Jong-un was already being blamed for his brother's death, with one South Korean politician saying the killing was a "naked example of Kim Jong-un's reign of terror." If the North Korean dictator did indeed order Kim Jong-nam's killing, it wouldn't be the first time he signed the death warrant for a family member. In 2013, his uncle and North Korea's second-in-command was convicted of treason and sent to a gun range where his body was turned to pulp by anti-aircraft machine guns.