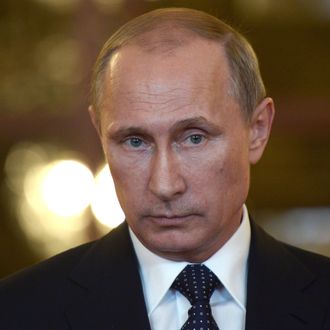 How do you say "fake news" in Russian?
Photo: Alexei Nikolsky/Getty Images
Kremlin spokesman Dmitry Peskov did not go so far as calling the New York Times' report that members of Trump's campaign had repeated contact with Russian intelligence officials before the presidential election "fake news," but he did say "it's a newspaper report which is not based on any facts."
"Let's not believe anonymous information," he said, referring to the Times' reliance on four unnamed sources.
"Perhaps there is some information, who these people are, when it happened," Peskov also told reporters. "Maybe the time will come and somebody will tell about it openly. Let's wait for this time."
While waiting for that "somebody," it should be noted that on Friday, Peskov denied that former National Security Adviser Michael Flynn and the Russian ambassador to the United States discussed lifting sanctions during the phone call, according to Reuters. Russia's Deputy Foreign Minister Sergei Ryabkov also mentioned back in November, after the election that the Russian embassy reached out to the Trump campaign as part of "routine" outreach.
The Russia's foreign ministry reiterated that message Wednesday. "Russian representatives, Russian diplomats were doing the work that is prescribed to them not only by Moscow," said spokeswoman Maria Zakharova, "but that is a normal practice for diplomats of all countries."
She added: "This information proves again that there is a large-scale political game inside the American politics."
Also chiming on on the failing media's latest report was Russia's foreign intelligence agency, which gave TASS, the Russian state-owned news agency, the ultimate no-comment comment, by saying it does "not comment on unsubstantiated insinuations published by the media."