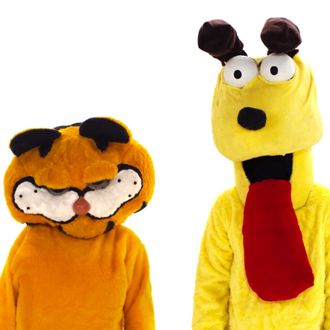 Earlier this week, without warning and without fanfare, something amazing happened. After lying dormant for a little more than nine years, Lasagna Cat came back.
Lasagna Cat is from the demented geniuses behind Fatal Farm, an early web-video production company that, in early 2008, was one of YouTube's first breakout hitmakers. The idea behind Lasagna Cat was simple — live-action reenactments of actual Garfield cartoons, featuring low-grade costumes and a Jon Arbuckle that looks like he was plucked out of a Garfield porn parody. After the initial reenactment, stylized remixes of the strip (in one instance, a parody of Final Fantasy) would play. The clips, named after the date on which their source material originally appeared in newspapers, all lasted roughly 90 seconds.
This type of parody seems so obvious now — it could practically fit inside a Vine — but back then, it was new and novel. Fatal Farm's (sometimes terrifying) work heralded a new type of humor that was, for lack of a better descriptor, distinctly internet. Weird, referential, off-kilter, and far outside the mainstream.
Now, it appears that Lasagna Cat will finally make his triumphant return tomorrow, in a clip apparently titled "Telephone Sex Survey."
"'Something' is coming tomorrow," Fatal Farm's Zachary Johnson wrote over email. "It's not the new series' episodes just yet. But it's an opening volley, of sorts."
"We were overwhelmed by the reaction of the originals and intended to revisit the channel much sooner than this but kept getting sidelined," he added. "We've made new episodes over the years, screening them at odd venues, but we've never made them publicly available. With the landscape of internet comedy so much weirder now, we wanted to kick things off with something that feels baffling and unnecessary like the originals."
Exactly which comic strips will get featured is unclear. (Maybe the one where Jon drinks dog semen, which is real, and was published in newspapers.)
In the meantime, you can watch the other two teasers below.