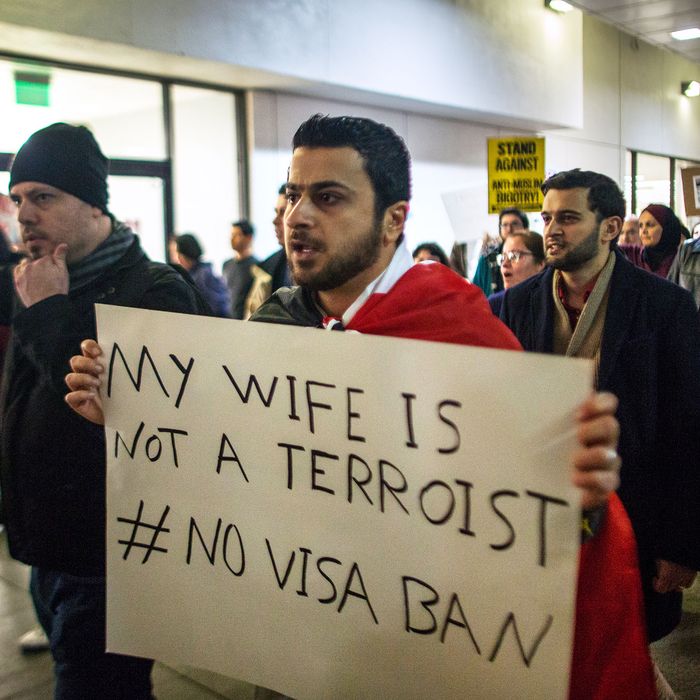 Protesters at Los Angeles International Airport.
Photo: David McNew/Getty Images
Citizenship in one of the seven Muslim-majority countries included in President Trump's travel ban is an "unlikely indicator" or terrorism ties, according to a report from the Department of Homeland Security published Friday by the Associated Press.
Compiled by DHS's Office of Intelligence and Analysis using public information, the report contradicts the White House's argument that citizens from those seven counties pose a particular threat to the U.S. It points out that in the last six years, foreign-born U.S.-based terrorists have come from 26 counties, most of which are not included in the ban. Further, it says, while Iraq, Yemen, and Syria have terror groups that may attack the U.S., the other four counties in the ban — Iran, Libya, Somalia, and Sudan — are "regionally focused."
The report was prepared after President Trump asked for a review following the Ninth Circuit Court of Appeals' refusal to overturn a lower court's decision to suspend the ban. But a spokesperson for DHS told the AP that the report was "incomplete" and only a "commentary from a single intelligence source versus an official, robust document with thorough interagency sourcing."
While Trump's travel ban has been suspended for weeks, the White House is expected to roll out a revised executive order any day now.